Google Nexus tablet rumors begin; 7-inch slate priced at $199?
14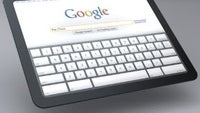 Unfortunately, no further details about the tablet were revealed, which is why the rumor mill is already working at full speed. A recent report from
DigiTimes
suggests that
the Google Nexus tablet will be a 7-inch device
priced at about $199, thus becoming a competitor to the
Amazon Kindle Fire
. The information is said to be provided by
"sources from Google's upstream supply chain"
, whatever these sources happen to be supplying. Interestingly, the guys at Google Taiwan were unaware of any plans regarding a Nexus-branded tablet, or so they claim, according to the report.
However, the above speculation is looking a bit shaky, mainly because it is in conflict with what Eric Schmidt mentioned, namely that the Google Nexus tablet will be of
"highest quality"
. And a 7-inch tablet with a $199 price tag does not sound quite high-end to us. Furthermore, a Nexus-branded tablet is supposed to serve as a reference device – a yardstick that other manufacturers will be comparing their Android offerings against. A Kindle Fire competitor is quite unlikely to boast such quality.
That being said, it is best to take DigiTimes' report with a great dose of disbelief, especially since quite a few of the rumors that it provides turn out to be untrue eventually. On the other hand, do you fancy the idea of a competitively-priced, 7-inch tablet that can deliver the richest Ice Cream Sandwich experience possible? Feel free to share your thoughts with us in the comments.