Google Nexus S 4G is officially set with a May 8th release & $200 on-contract pricing
8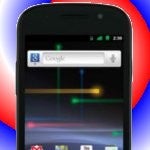 Hard to believe, but the
Google Nexus S 4G
is still one of the very few devices that's expected to be running
Android 2.3 Gingerbread
from the onset, but thankfully, we're now presented with an official date for its release.
Finally, Sprint came out to officially announce
May 8th
as the day when the handset will begin to go on sale through all Sprint channels. Even though some people might have been able to gobble up
pre-orders
of the device for some time now, there's still going to be just a little bit of wait before they're able to start playing around with this Google inspired smartphone. Obviously, you'll need to shell out the usual
$200
with your signature on a 2-year contract, but we'd imagine that some would easily pay the premium without much complaint considering the nature of the device.
With the Google Nexus S 4G arriving just before we're poised to find ourselves in the simmering heat wave of summer, are you still considering on picking it up knowing that devices like the HTC EVO 3D are on the way?
source: Sprint via
Engadget