Google Nexus 6P uses the latest Samsung AMOLED display
69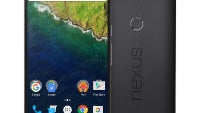 A Reddit AMA from today has already brought us some cool news on the new Nexus devices, including why they
don't have wireless charging
and what the
X and P in the names mean
. Now, Google has also given some interesting info on the Nexus 6P display, which is apparently the latest Samsung AMOLED panel.
According to Hiroshi Lockheimer, Google not only used the latest generation WQHD AMOLED panels from Samsung for the Nexus 6P, but the team spent quite a bit of time tweaking things to make sure the displays are as accurate as possible. Lockheimer said:
One of things we deeply care for is the quality and accuracy of the display through which all of us connect with the stuff we care about. We created a very tight spec (white-point temperature, delta-E variance, color-space accuracy, etc) for the 6P WQHD AMOLED panel, so it was important that we use the most cutting edge panel technology available.
As we also learned as part of the AMA, the P in Nexus 6P stands for "premium" and this definitely backs up that meaning. Now, we just have to count down the days until the 6P starts shipping to customers.