Google Nexus 6P price and release date in US, UK and EU
23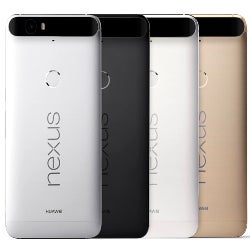 Coded under the internal name Huawei Angler, the new Google flagship is now official as the
Nexus 6P
, carrying a grand, bright 5.7" display, just as rumored, with a 2560 x 1440 Quad HD resolution. This Huawei-made Nexus has a 159.3 X 77.8 X 7.3 mm chassis, which isn't making it the
most compact 5.7-incher out there
, like the
Note5
, due to the largish front stereo speakers near the top and bottom of the display.
There is a 12.3 MP rear camera and Huawei's typical 8 MP front shooter that is present on most of its flagships now. Interestingly, the phone features a barometer inside, so there might be apps or features taking advantage of its atmospheric pressure measurements.
The star of the show, of course, as with every Nexus device, is
Android 6.0 Marshmallow
, and every bit of these specs indicates that this Quad HD Huawei will be the poster child for the newest Android version, while the LG-made
Nexus 5X
that was announced concurrently will take the back seat.
The thing that can make or break Nexus handsets is pricing, though, as last year's
Nexus 6
can attest, so how much for the 6P? Well, Google isn't selling the handset at cost, it seems, as it can be yours in exchange for $499 for the 32 GB version, $549 for the 64 GB version, and $649 for the decked-out 128-gigger. In Europe
that tag might go up to €649 for the basic one
, hopefully just for the preorder period. In the U.K., Ireland, and Japan, Google will partner with retailers and carriers, too, not only its official store as in the US. The Nexus 5X and 6P in the UK will go for £339 and £449, respectively, and that's for the basic 16 GB and 32 GB versions of the two.
As for availability, the phones will be available on preorder as soon as today, with first deliveries shipped out some time in October, likely in the second half.
| | | | | | |
| --- | --- | --- | --- | --- | --- |
| | Nexus 5X 16 GB | Nexus 5X 32 GB | Nexus 6P 32 GB | Nexus 6P 64 GB | Nexus 6P 128 GB |
| US | $379 | $429 | $499 | $549 | $649 |
| UK | £339 | £379 | £449 | £499 | £579 |
| EU | €479 | €529 | €649 | €699 | €799 |
| Italy | €479 | €529 | €699 | €749 | €849 |
| New Zealand | NZ$759 | NZ$849 | NZ$1099 | NZ$1199 | NZ$1349 |
| Canada | C$499 | C$559 | C$699 | C$749 | C$849 |
| Australia | A$659 | A$739 | A$899 | A$999 | A$1099 |
| Japan | ¥59300 | ¥63400 | ¥74800 | ¥80800 | ¥92800 |
| India | ₹31900 | ₹35900 | ₹39999 | ₹42999 | ₹47999 |