Google Nexus 5X rumor round-up: specs, features, price and all we know so far
43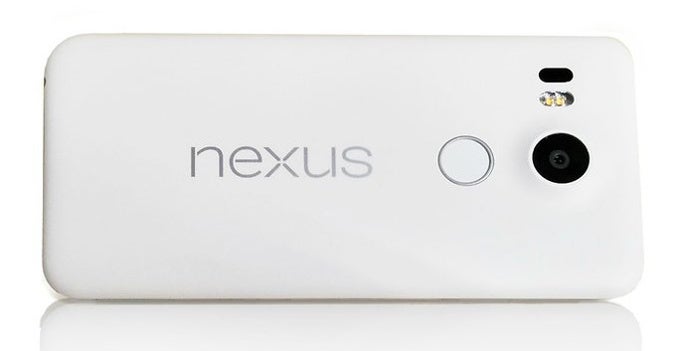 After two years of no common-sized phone from Google, this year, Google's Nexus is back.
Not officially just yet, but leaks have been way too consistent and plentiful, and this latest one reveals the new face of the Nexus series: two Nexus phones are coming, a 5.7" phablet by Huawei, and a 5.2" phone by LG, and both will share three signature features: dual front-facing speakers, a fingerprint reader on their back, and a USB Type C connector.
Three signature features: dual front speakers, fingerprint reader and USB Type C
After the oversized Nexus 6 of last year, though, our eyes are on the new, 2015 edition of the LG-made Nexus 5.
The phone will be officially called the Neuxs 5X and here is what we can expect from one of the most anticipated phones this year.
Design and display: fingerprint scanner and dual front speakers
The one thing that seems almost certain now is the design and styling of the Nexus 5X: render images of the phone have leaked out and everyone seems to agree that they are authentic. The pictures show an interesting combination of a white and black, dual-color style for the device: a white back cover (likely plastic) and a black frame and front (some say the frame will be made out of metal).
Since this is an LG phone that is a successor to the original LG Nexus 5, it does carry some resemblance to the older phone, but this new Nexus 5X is thinner, sleeker, and comes with a very distinct camera hump.
We have not yet seen such high-res true-to-life pictures of the front of the device, but the dual front-firing speaker setup does seem confirmed and it is a welcome solution that suggests cleaner and louder audio.
Just a couple of months ago, the rumored dimensions for the Nexus 5X have surfaced, and here are the numbers:
5.2" Nexus 5X dimensions: 146.9 x 72.9 x 8/9.8mm
The varying thickness seems to indicate that at its thickest - that is the camera bulge part - the phone is 9.8mm thick, while all the rest of the body measures a fairly thin 8mm.
There is one last element of the Nexus 5X that has not yet surfaced in pictures: the rumored USB Type C connector is said to be there, but that does not tell us much - will it support a USB 3.1, 3.0 or the older, 2.0 kind of standard, and what are the details remain to be seen.
When it comes to the display, the 5X is expected to have a 5.2" IPS LCD display with a resolution of 1080 x 1920 pixels, resulting in a
pixel
density of some 423ppi. We find this resolution more than sufficient for the overwhelming majority of users. What we're really curious about is whether this new Nexus will follow on the excellent example set by the 2013 LG Nexus 5, which had excellent color calibration with great-looking colors.
Android 6.0 Marshmallow with Android Pay
Google uses the Nexus platform to show the newest and most advanced version of Android, and that's why it's no surprise that the Nexus 5X is expected to come with Android 6.0 Marshmallow on board.
Google has taken quite a while to bake in support for fingerprint scanners on the system level, but this is probably one of the biggest features of Android 6.0. Google has improved the way fingerprint scanning works and in this new Nexus, one tap on the fingerprint reader will automatically turn on the phone and unlock it, with no need to first lock the screen and then press the button.
The new Nexus 5X with its fingerprint scanner and Android Marshmallow will likely be one of the first phones to fully support Android Pay, the wireless payment system that is expected to roll out at a lot of US retailers this fall.
Other big changes in Android 6.0 Marshmallow include the new way of managing permissions for your apps: rather than having to accept a bucket list during installation, you get to install the app, while individual permissions like access to your photos and microphone will be requested upon using a particular feature of the app. This will make it abundantly transparent when and why an app needs access to those particular features.
For all else, Android 6.0 Marshmallow does not bring any huge changes to the visual style of the platform: it's the same Material Design idea that was introduced in Android 5.0 Lollipop. One minor feature that we're happy to see is a night mode that turns backgrounds dark and makes using the phone at night much less stressful on the eyes.
Performance, Memory and Storage
When it comes to specs and features, the new Nexus 5X is said to run on the Qualcomm Snapdragon 808 system chip clocked at up to 2GHz, with 2GB of RAM.
Snapdragon 808 is a safe, cool bet
This is an interesting decision, as the Snapdragon 808 is not the top of the line Qualcomm chip (that would be the Snapdragon 810 at the moment), and Nexus phones so far have used top-notch hardware. It's not that the Snapdragon 808 itself is not powerful enough: it is based on a big.LITTLE design with two large and powerful Cortex
A72
cores running along four power-efficient Cortex
A53s
for a balanced performance, but it is still strange that the handset avoids the Snapdragon 810. We can only guess what is the reason, and all those guesses have 'bad thermal management' and 'overheating' in them.
When it comes to the rest of the specs, there is - disappointingly - 2GB of LPDDR3 RAM, while the storage options will be two: a 16GB base model, and a second one with 32GB of storage. As is the tradition in Nexus phones, this storage will not be expandable, as the Nexus 5X will not have a microSD card slot.
Camera: 12.3 megapixels with dual LED flash and laser AF
All rumors and leaked pictures reveal a picture of a Nexus phone with a prominent camera bulge. This alone suggests a large camera sensor on the inside, and a large sensor comes with the promise for larger pixel size and comparatively better photography performance in scant light. Leaks so far agree that the new Nexus 5X will feature a 12.3-megapixel camera with f/2.0 aperture, come with a dual-LED flash, as well as an infra-red focus assist light that should help lock focus faster for nearby objects. We're curious to see whether this new Nexus comes with a color spectrum sensor, a feature that LG introduced with the LG G4 and that does seem to help the phone get color temperature much more accurately.
The latest rumors say the phone will NOT have optical image stabilization (OIS), and the reason for this is allegedly in the large sensor that is used. It is also said that the bigger-than-average, 1.55-micron pixel size of the camera will help the phone gather more light in challenging conditions for better night shots despite the lack of OIS.
We're also expecting to see the debut of Google's new Camera API 3.0 that is said to bring some neat new features to the stock camera experience. The key new features are rumored to be 'Smart Burst' that would allow you to quickly shoot a burst of pictures and easily pick the best one of them, 'Creations' that should automatically compile images in an album, similarly to what's already done on Google Photos, and 'Animations' that should allow you to create some neat animated GIFs.
Compromises: no expandable storage, likely no removable battery
As much as we like what Google is doing with the stock Android experience on the Nexus series, the company has been consistent with the limitations of a Nexus. Those are, of course, choices, rather than works of chance: the new Nexus 5X - just like the old ones - is likely to come with no microSD card slot for expandable storage, and it will likely keep its battery sealed and not easily removable.
Those are two conveniences that we have seen so many users complain about, and it's a bit puzzling to see companies continue ignoring demand for this feature. Or is it just the power users who want that?
Either way, the battery of the new, Nexus 5X is said to be a 2700mAh cell, an adequate size given the screen dimensions.
Google promises an 'all-day battery life', and leaks give us the following numbers:
17 hours of talk time on 3G networks
300 hours of stand-by time on 3G networks
Interestingly, Google has removed the
wireless charging
option we had on the Nexus 5, and you can only charge the phone via the USB Type C cord.
Price, release date and final words
Finally, price! The Nexus 4 and Nexus 5 sent shockwaves through the industry: they were priced at half the cost of a flagship, while competing with flagships directly in terms of both specs and features. The Nexus 6 strayed from this tradition with a price that was only slightly lower than its peers, but this year, we expect Google to go back to its ways: the Nexus 5X is rumored to have a much lower price than that of iPhones and Galaxies. How much? Rumors say that it will start from $379 for the base version, fully unlocked.
$379 for Nexus 5X, coming on Sept 29th
Good news is that this new Nexus 5X phone should be available on Google's Project Fi mobile network (that currently only supports the Nexus 6) with the following prices:



$20 base price for unlimited domestic talk and text, unlimited international texts, low-cost international calls, and Wi-Fi tethering, as well as coverage in 120+ countries
plus $10 per 1GB of extra data (if you want to add 5GB of data, just add $50 to the base $20 price)
no fees for unused data: so if you bought 4GB of data and used just 3.2GB, you would pay $32 rather than $40
Needless to say, those are some very competitive prices that could convince you to switch away from the big four - Verizon, AT&T, Sprint, and T-Mobile. Speaking of the carriers, we're yet to hear which operators will get the new Nexus.
If you like what you see so far, you should know that the Nexus 5X announcement date is set for September 29th, and the release date is said to be on the same day in a good Google tradition. Fingers crossed!