2015 Huawei Nexus 6P rumor round-up: specs, features, price, release date and all we know so far
15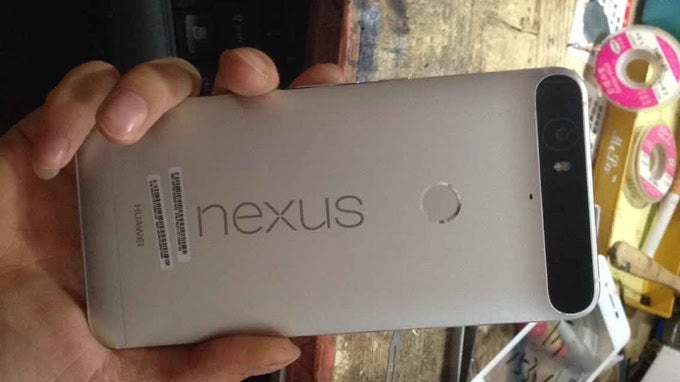 Last year, Google surprised us with its gigantic, 6-inch
Nexus 6
, but mostly - with the fact that it skipped on a regular-sized handset that will run on stock Android.
This year, it's going back to the basics with two phones that will cater to both those who love more compact, easily pocketable devices, as well as to lovers of the trendy phablet form factor.
After taking a look at all the rumored new 2015 Google/LG Nexus 5 features, it's time to turn our attention to the rumored second Nexus phone for 2015: the Huawei Nexus 6P, coming under the 'Angler' codename.
Design and Display
The new Nexus 6P is a large phone with a 5.7-inch display, but it's nowhere nearly as large as last year's Nexus 6. Leaks have already pointed out the exact dimensions for the new phone and it will measure 159.4 x 78.3 x 6.6/8.5mm, noticeably narrower and thinner than its predecessor (the Nexus 6 measured 83mm wide and 10.06mm thick). Do keep in mind that the two numbers shown when speaking about the Huawei Nexus indicate a rather large camera hump on the top rear position of the gadget.
Three key features: dual front speakers, fingerprint scanner, USB Type C
This is not the only important change: the 2015 Nexus 6P is also said to flaunt an all-metal body, and we've already seen the first set of leaked images that corroborate this leak.
There are three key elements of the 2015 Nexus series: both new phones come with dual front-facing speakers, a fingerprint sensor scanner on the back of the phone and the new USB Type-C reversible connector in lieu of the old microUSB standard. It's notable that Google brings one-tap unlock with the fingerprint scanner, while previously on many phones you would have to first fire up the display and then tap on the finger reader to unlock.
Then, there is the display: it's expected to be a 5.7-inch screen with a Quad HD resolution (1440 x 2560 pixels), translating into
pixel
density of the impressive 515ppi. The screen is covered with the latest Gorilla Glass 4 that is not only more resistant to damage, but has anti-bacterial properties. This will certainly be a very sharp display, but the one question that we don't yet have an answer to is whether it will be properly calibrated: as more and more people use their phones to take pictures, it's important that you have proper calibration.
Performance is on fire: Snapdragon 810, 128GB storage option
Qualcomm's Snapdragon 810 system chip has been the source of quite the controversy: it overheated badly in the initial version released in early 2015 devices, but since then, Qualcomm has release version two of the same chip with some improvements to thermals. Nonetheless, issues seem to persist, and that's why we are somewhat surprised to see the Snapdragon 810 appear as the rumored SoC for the Nexus 6P.
Conservatively clocked Snapdragon 810 might be a good thing
There are two reasons to be optimistic about it, though: first, the Nexus 6P is a large phone and this larger physical size will allow for more efficient heat dissipation, and secondly, the Snapdragon 810 here seems to be clocked at the conservative 1.9GHz to avoid overheating. The Snapdragon 810 system chip, naturally, comes bundled with an Adreno 430 GPU, and and there is allegedly 3GB of LPDDR4 RAM on board.




Next up, we look at the amount of memory on board. There is one compromise that all Nexus phones make: they have no expandable storage (no microSD card slot present), and we expect this to hold true for the Nexus 6P as well. The phone has leaked in benchmarks showing internal storage of 24 GB, a figure that suggests its base version will be a 32GB. Various sources have recently dug out information that the phone will come in three versions: a 32GB, 64GB and a 128GB model, with the latter being the most ever included on a Nexus phone.






Android 6.0 Marshmallow coming with Android Pay support
The whole idea of a Nexus phone revolves around it being a platform to showcase the latest and greatest of stock Android, the form Google intends you to see its operating system. On the Nexus 6P, we will see the debut of Android 6.0 Marshmallow.
Google has taken quite a while to bake in support for fingerprint scanners on the system level, but this is probably one of the biggest features of Android 6.0. The 6P with its fingerprint scanner and Android Marshmallow will likely be one of the first phones to fully support Android Pay, the wireless payment system that is expected to roll out at a lot of US retailers this fall.

We've already laid out the changes in Android 6.0 Marshmallow multiple times, but just as a quick refresh on the major improvements, we can mention the new permission management for apps - you don't have to accept a bunch of obscure permissions in the Play Store, instead you are asked for permissions for specific features as the app needs them: access to the camera, microphone, or others. The new Android 6 also brings big improvement in power management and is much more power-savvy in sleep cycles, with Google promising noticeable improvements in stand-by times. There's a new Dark Theme as well, while overall the Material Design styling remains in place. Take a look at our visual comparison between the new Android 6.0 Marshmallow and its predecessor, Android 5.x Lollipop.
Cameras
Nexus phones so far have been great overall performers, but they have never been on par with the big names when it comes to camera and image quality. We're optimistic that the new 2015 edition of the Nexus series will fix that. The Nexus 6P, in particular, has a very distinct camera bulge that suggests Huawei is using the space to maximize sensor size and that would be great news if it brings the theoretical low-light advantages of a larger sensor to real life.
The camera on the Nexus 6P is expected to be a 13-megapixel one, and it comes with a dual LED flash and laser auto-focus assist, both neat features in order to light up your images better and focus faster. 4K video recording will be on board as well, but that's not really news in the Android ecosystem.
Interestingly, up front, the new gadget sports an 8-megapixel camera, a big resolution upgrade over the 2-megapixel selfie camera on the current Nexus 6. Some rumors have circulated news about a front-facing flash for a burst of extra light to shine on your face, but it seems that this feature won't make it to the final device.
Battery life
With a 3450mAh battery, the Nexus 6P has around the average battery cell for a 5.7" device. It's a non-removable battery cell and - unlike previous Nexus phones - this one does not support
wireless charging
. The big promise around batteries here, however, lies in the software as the new Android 6.0 Marshmallow that launches with the Nexus 6P is said to bring significant improvements to stand-by longevity and this could result in some significant battery life gains.
Price, release date and final words
The new, 2015 Nexus 6P will be officially announced on September 29th. Google has now officially sent out invites to the press for a small event where it will unveil the new Nexus phones and give media time for the first hands-on looks at the gadgets. Good news is that the release date is also set for September 29th on the Google Play Store.
Release date is set for Sept 29th, prices start at $499
Prices for the Nexus 6P start at $499 for the base, 32GB model, and there will also be a 64GB and 128GB tiers.
Chances are that the new stock Android phablet could also be offered on the major US carriers - Verizon, AT&T, Sprint and T-Mobile - or it will at least support 4G LTE bands for all the major US carriers.
If we take the current Nexus 6 as an example, this new Nexus 6P should become available for use on Google's Project Fi, a carrier that offers much more affordable data that you can finely tune to your usage and pay less:
$20 base price for unlimited domestic talk and text, unlimited international texts, low-cost international calls, and Wi-Fi tethering, as well as coverage in 120+ countries
plus $10 per 1GB of extra data (if you want to add 5GB of data, just add $50 to the base $20 price)
no fees for unused data: so if you bought 4GB of data and used just 3.2GB, you would pay $32 rather than $40