Google Maps update coincides with big social and Google+ integration push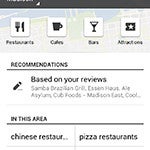 We've been telling you for a while now that location-based deals and services is shaping up to be
a major battlefield for your dollars
– local deals specialists like Groupon may have made an initial splash, but it's the big platform companies that are going to really duke it out in the coming years, as
having a mobile platform
is an indispensable tool for getting location-based information in real time.
To that end Google has made a small but important update to Google Maps for Android (coming to the iOS version "soon"). The highlighted feature is the integration of data from Zagat, a company that sold travel guides rating restaurants and other local companies which
Google purchased last September
. Here's the innocuous looking list:
What's new:
* See reviews from experts and people you know
* Find just the right places with Zagat scores and summaries
* Get directions directly from map bubbles.
Boring list right? After all, getting directions from map bubbles has been available to users of the Labs features for a while now. The Zagat data is new and nice enough, but what of the "see reviews from experts and people you know" part? That's where the secret sauce lies, as it's a reference to a much larger integration taking place across Google's platforms.
Web users of Google+ woke up today to find a new Local tab in their Google+ ribbon.
If you check out the image at right, you'll see that Maps now has an identical tab, which you can access either from the bottom tool bar in map view, or from the drop-down list at any time. If you've ever reviewed a place through Google Places, you will be asked for permission to share your reviews whenever you check into the local tab in Maps or your Google+ Local page (whichever you head to first).
You can say no of course, but saying yes offers up your wisdom to people that are in your circles, or if they specifically select the business in question - and after all, why would you spend time writing reviews if you don't want anyone to see them? And you can see and search those reviews from the web, on Google+, or via Maps. With one set of concurrent updates Google can now help you get (and give) more relevant local information no matter what device you are using. Wondering if the new sushi restaurant down town is any good? You can read reviews and check out the Zagat score, but how much more confident will you be if you see one of your friends tried it a couple weeks ago and raved about it?
These sorts of changes not only benefit from social information, they also directly improve the quality of reviews
; by tying a review to a public Google profile rather than an anonymous screen handle it makes people less likely to try and cheat the system. This sharing of data between Maps and Google+ will probably let Google show you better ads, but it will also provide the information needed to help answer local questions better.
For example, the question "Where can I get a good steak aground here?" could be answered without social data (though perhaps less well if anonymous reviewers skewed the results), but what of the question "where a good place to eat around here?" That question is far more dependent on your personal likes and dislikes – a great steak house won't have much appeal if you're a vegetarian after all! By cross-checking your social, personal, and location data the results will be a vastly superior (and continuously improving) experience when you search for a local restaurant or business.
As mobile users we should start to expect this sort of integration to become commonplace -
our mobile experience doesn't just depend on the apps we can install on our phones, but how those apps interact with larger platforms that supply services, goods, and information to us
. It's this dependence on
digital platforms
that lead Nokia into Microsoft's waiting arms last year, and it's why Microsoft continues to pour money into a mobile OS that has yet to make them any money. It's why Facebook seems determined to
create their own mobile platform
, despite
significant headwinds
. And the ability to make these sorts of connections is why Google insisted on
changing its privacy policies
earlier this year, despite a
widespread misunderstanding
of what they were trying to do with it.
sources:
Play Store
,
Official Google Blog