Google Maps now available for Apple Watch; app offers simple navigation to home or work
11
Good news for Apple Watch users who would rather rely on Google Maps than Apple Maps. Google has made its Maps app simple for the iOS wearable; When you open Google Maps on your Apple smartwatch, you are immediately presented with two choices; you can navigate to your home or to work. The directions to both are already preset using your Google account. How simple and easy is that?
While there is not a way to access a full map using Google Maps on the Apple Watch, using Force Touch allows you to switch between walking, driving and transit directions to your home or work. You can also get directions to a location you recently navigated from your phone using Google Maps. And if you start a route on your handset, you can switch to your watch to navigate the rest of the journey.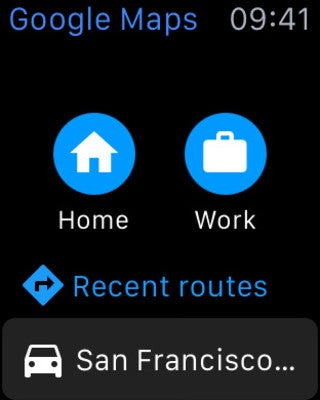 Google Maps now works on the Apple Watch with limited functionality
There is also a new change for those using Google Maps on the iPhone. In the past, you used to have to open three separate pages to find out your estimated time of arrival at a location by walking, driving or taking mass transit. With today's update, your ETA for all three methods of navigation are available on one page, all at the same time.
source:
Engadget