Google Maps now lets you and your friends quickly vote on where to hang out next
4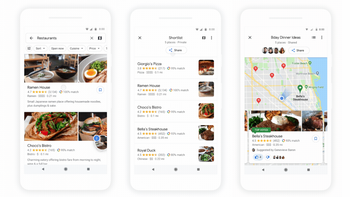 The days of endless group chat conversations about where the party should drink coffee, eat or go clubbing, are over! At least that's what Google is hoping for with the new feature it's adding to Google Maps: Group planning.
Group planning is seamlessly integrated into the Maps app and allows you to create a list of places of interest for your friends group, so you can quickly find out which one is preferred by the majority. While the obvious use case is picking up a restaurant to eat at, the function works for any sort of Google Maps locations. To add one to the list, you just tap and hold on it and show up as a floating bubble on your screen, so you can easily check what you already have on, once you have added a few entries.
When you finish the list, you can share it with your friends and let the voting begin! Using the good old thumbs up and thumbs down, all the participants will voice their preferences and the top voted location will be highlighted. If you and your friends have embraced the principles of true democracy, this should be the place to go to. But there's usually this one person whose opinion seems to be more important than the rest. For now, Google doesn't have a solution for that problem.
The new feature is starting to roll out with the next Google Maps update this week, so you might be able to put it to the test for this weekend's activities.
source:
Google