Google Maps for iOS gets 10M downloads in just 2 days
30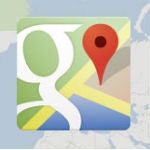 Google Maps for iOS has been pretty big news over the past week. It was released to critical praise, and jumped to the
top spot in the iTunes App Store
in just 7 hours. The release was so big that there were even reports that
Apple execs were "seething"
over it all. Well, they aren't likely to be too happy about this news either: Google Maps apparently saw 10 million downloads in its first two days on the market.
The news was announced today by Jeff Huber, Google's senior VP for Geo and Commerce. Huber went on to give his team praise, saying:
We're excited for the positive reception of Google Maps for iPhone around the world. Congratulations to the Maps Team on the recognition for the passion and hard work they poured into it, for this release and over the last 7+ years.
10 million downloads in just the first 48 hours is pretty impressive, but we'd like to know just a bit more about that number.
Some sites are reporting that 10 million downloads represents 2.5% of all iOS devices sold, but
that's not accurate
. The number would be accurate if the Google download number were US only and if we went by the iOS sales figures from September. We don't know if the Google Maps download numbers are US or worldwide, but we do know that there have been a lot of iOS devices sold since September with the release of the iPhone 5, iPad mini, and iPad 4. So, the real number is somewhere less than 2.5%, but we're not sure how much. And, of course Google Maps will have seen quite a lot more downloads in the past week as well.
So, we can't break down the numbers properly, but it seems safe to say that Google Maps on iOS is a full on success.