Apple collected record 51% of global smartphone revenue in Q4; iPhone had strong Q4 in China
32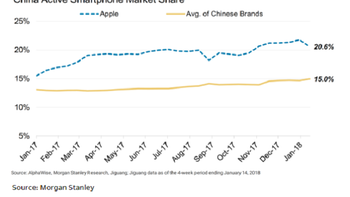 Securities house Morgan Stanley said today that Apple had a strong showing in China during the fourth calendar quarter of 2017. On a sequential basis, Apple's handset shipments rose 12% during the final three months of last year, compared to the third quarter results. During the same time period, deliveries of Android phones declined 17% in China. But Morgan Stanley adds that overall iPhone growth in the country is slowing as Android users upgrading to a new phone are choosing models produced domestically from Huawei and Oppo.
Analysts at the brokerage firm say that Chinese phone manufacturers are looking to increase their share of the mid-range market at home. To do this, these companies are lowering the price of their handsets. That in turn results in lower sales for older, lower priced iPhone units like the
Apple iPhone 6
. One device that stands out is the
Apple iPhone X
. The premium ten-year anniversary model now has 3% of the iPhone active installed base in China, and that number is rising. That figure compares favorably to the 1.36% that belongs to the
iPhone 8
and the 2.63% that is owned by the
iPhone 8 Plus
.
For the four weeks ended January 14th, the iPhone made up 20.6% of active phones in the country. That is down from the 21.8% share of active phones in China owned by Apple during the previous four-week period ended December 31, 2017.
Another report released today, this one from Strategy Analytics, said that Apple set a new record by collecting 51% of global smartphone wholesale revenue during the fourth quarter of 2017. That amounted to $61.14 billion. Certainly the iPhone X had a lot to do with that record setting performance. During the same quarter in 2016, Apple had 48.5% of the wholesale market. Samsung also saw its global wholesale smartphone market share rise from 14.5% in Q4 2016, to 15.7% in Q4 2017. Huawei was third with a 7% slice of the wholesale smartphone pie from October through December. Overall, fourth quarter 2017 wholesale smartphone receipts rose 7.5% year-over-year to $120.2 billion from $111.8 billion.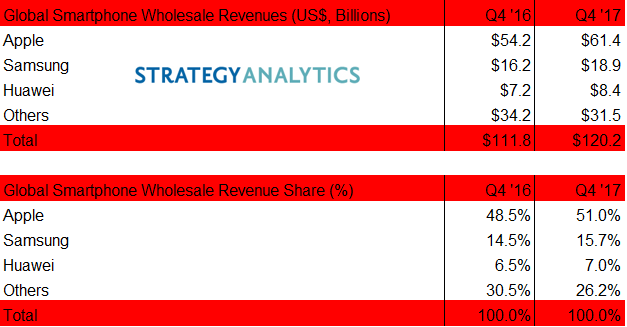 Apple had a record share of fourth quarter smartphone wholesale revenue according to Strategy Analytics
source:
StrategyAnalytics
,
FastCompany