Google Maps Navigation hits Europe soon; hopefully
This article contains unofficial information.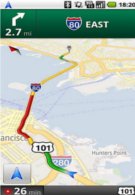 Android 2.0 and above owners have the privilege of using Google Maps Navigation for some time here in the US – providing a free alternative to other popular voice guided GPS services. Unfortunately for our friends across the big pond, Europe has been in the dark when it comes to the application. You'd think it'd be so simple to just launch the service, but it's actually a bit more complicated than one can imagine. In Europe, Google needs to work with local partners such as Navteq (Nokia) or Tele Atlas (TomTom) to provide maps of Europe. They could potentially be holding the required maps cache that Google needs to properly implement navigation. Still there is a rumor about how Google is working with a company in the Netherlands to quickly get this feature out to Europe. Their pleas aren't falling on deaf ear, thankfully, as the recent withdrawal of Navteq from the Android Market might indicate its eventual arrival on the continent.
source:
FrAndroid
(translated)