Google Keep streamlines list-making with new autocomplete tools
1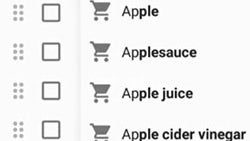 Google's set the software and services bar pretty high with its smartphone offerings, giving us high-profile entries like the voice-driven virtual assistant of Google Now, the seemingly limitless video library that is YouTube, or Google Maps and its ability to know your own neighborhood almost better than you do. With all that to gawk over, it's easy to overlook
some of the more utilitarian Google solutions out there
. Today, though, we're turning our attention to just such an app, as we learn about some new features rolling out to
Google Keep
.
Google's note-taking app was already a convenient place to quickly jot down a list, and now a new update seeks to further streamline things with auto-complete for grocery items.
When Keep realizes you're making a shopping list of food items, it can now tailor auto-complete suggestions to only include other groceries. So when it sees "br…" you're going to get suggestions like "broccoli," not "brass."
Keep also picks up the ability to display link previews, giving you an advanced look at websites before you tap through, and remembers items you've marked as not needing when putting together lists – helping you to avoid duplicates.
Look for all these abilities hitting Keep this week.
source:
Google
(Twitter) via
Engadget