Google Glass may be featured in a Pauly D video (read: if so, Glass has already jumped the shark)
16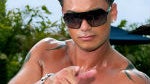 Google Glass hasn't made too many appearances yet. We've seen it on
models at a fashion show
, and of course we've also seen Google co-founder
Sergey Brin
wearing Glass everywhere he's been over the past few months. But, now we're seeing it in a place we never expected: a music video from Jersey Shore alumnus Pauly D.
Obviously, the strangest thing about this is that Google Glass has only been given out to those that pre-ordered at Google I/O last year, and everyone that has gotten a pair has had to sign non-disclosure agreements. We really don't want to think that Google has actually sanctioned this usage of Glass, but if not that would mean someone may have broken the NDA. Of course, the glasses in the video don't look 100% like Google Glass, and may not be the real thing, merely a knockoff.
The glasses make a couple appearances in the video. A model puts them on at the beginning, and then she walks down the runway wearing Glass and recording a video at around 2:25. Given the way it is featured in the video, it seems like Google would have to have given the okay on this, assuming the glasses in the video are actually Google Glass, which we can't confirm. But, at the very least, the models are attractive, so you can always watch with the sound off.