Google Glass gets camera update to add HDR and more
1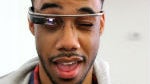 While developers are working on various apps for Google Glass, the main use case for the device right now is as a hands-free, head-mounted camera, so it's not that big a surprise that one of the first software updates for Glass has come to improve the camera. The update is rolling out now, and adds options for HDR image capture and more.
Google had promised to push out regular updates for Google Glass every month, and last night saw this update adding a number of photo features. The main addition to the camera functionality is that with this update, Glass will actually capture multiple images every time to take a photo. The multiple image capture adds other various functions like the option for HDR images.
The multiple images captured can also be stacked to improve low-light image capture by making photos brighter and sharper, but Google says it will also improve normal-light capture with improved details and better color saturation. Impressively, Google says that this multiple image capture technique won't have problems with capturing movement either.
The other major addition to the camera is the option to add captions to photos. After you take a photo with Glass, there will be a dialog box asking to add a caption, just tap the touchpad to accept, then dictate the caption.
There are also some minor fixes in the update, but we're excited to see new images that come out with the updated software. Not to mention that if the update works well, we should probably expect to see it rolled into Android proper to improve camera functionality on phones as well.