Google's Gboard keyboard app updated with more GIF options, additional languages
5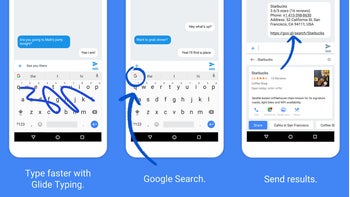 Gboard is getting more improvements this week, so if you're using Google's keyboard app for Android devices here is what you'll get. First off,
the option to create custom GIFs
has been further improved with more options, which will allow users to add text to them and even include some fun effects.
It's worth noting that you can also choose different colors for the text that you want to add to your GIFs. Also, there aren't too many effects (only three) that you can include on the GIFs, but it's a good start.
Furthermore, the latest update adds search in 15 more languages, as well as support for 28 new languages: Bagri, Batak Toba, Bench, Bhili, Capiznon, Chavacano, Eastern Min, Fiji Hindi, Ge'ez, Gurani, Ingush, Karachay, Khorasani Turkic, Kipsigis, Maharashtrian Konkani, Lezgian, Mizo, Maguindanao, Malay (Brunei), Maranao, Southern Min, Northern Sami, Qashqa'i, Rinconada Bikol, Surjapuri, Tausug, Upper Saxon, and Vasavi.
If you haven't tried one of the best keyboard apps for Android devices, you can now download the
latest version of Gboard
for free via Google Play Store, it may become your favorite keyboard app as well.