Google Drive leaks again, launch seems imminent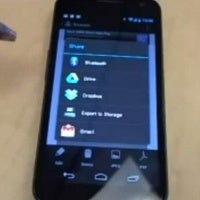 After a couple of rumors last week all but confirmed
Google Drive's existence
, now we saw the service live on a developer's Samsung Galaxy Nexus. In an Android Developers Hangout, while showing an application, one of the sharing options was Google Drive.
You can see it all for yourself in the video below - a blurry image saying
"Google Drive"
and a neat triangular logo. Google quickly took the video down in what further hints at how real Google Drive is, but nothing can be hidden from the internet and it resurfaced reuploaded shortly after disappearing.
Google Drive is expected to launch very soon, possibly some time during this week. Expectations are that it will be a free Google service with a 5GB data allowance. More service will require an annual fee. Overall, G Drive is expected to be very similar to Dropbox, but with tighter integration with Android and even more functionality like editing of documents.