Sprint to offer free unlimited data to always-on PC users
2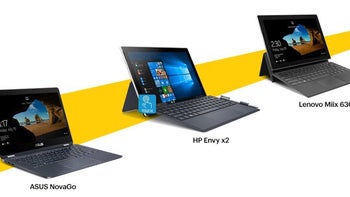 Merging with
T-Mobile
is not the only way
Sprint
hopes to grab headlines these days. The carrier is now offering free unlimited data for 2018 to anyone who signs on with one of the new always-connected PC's. However, there are some caveats with this deal. The free unlimited data is part of the Bring Your Own Device plan, and is subject to surcharges and taxes. There are of course speed limits that will apply and you have to enroll with auto pay. The deal is only valid through December 31, 2018, which means after this year you will need to either cancel or start paying $15.00 a month. They are offering a $5 off this price deal if you continue with auto pay enabled. There are only three devices eligible for the plan and no, sadly Microsoft's new LTE-enabled
Surface
Pro is not one of them. Currently the plan applies to the clamshell Asus NovaGo as well as the two-in-one HP Envy x2 and the Lenovo Miix 630. Still, this deal is sure to grab some customers who have purchased or are looking to purchase these new devices.
What are always-on PC's and why only these three?
Always-connected or always-on PC's are essentially laptops or two-in-ones that are running full Windows 10, but also have LTE connectivity. We see this often with tablets, but since the iPad failed to kill the laptop, this is where we are heading. What is important (and why the Surface was not included in the deal), is that these devices inlcude something besides LTE. They are among the first group of PC's that are running Windows on ARM. They are powered by Qualcomm's Snapdragon 835 chipset instead of an Intel processor. This means a few things. The first is that not only are they always connected because of LTE, but they are always-on much like a smartphone. They are also much better on battery life and they are quiet since a fan is not needed to cool the much smaller processor. They are also a lot less powerful than a full sized Intel processor such as the i5 or i7. So far, a lot of reviews have shown that while Universal Windows apps from the Microsoft Store run great, some more intensive programs do not fair as well. Still, these are marketed more as a companion for your full time PC and as a way to stay productive on the go. Unlimited data from Sprint will definitely go a long way towards fulfilling that role.