Google Chrome to improve browsing with Network Quality Estimator and Offline mode
5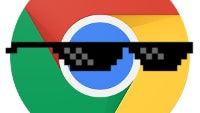 Addressing Internet speed issues that users in developing markets may be met with, Google will be adding a couple of new features to the Chrome app. In an update that should be rolling out, the browser will now include a couple of handy options.
One of them is Offline browsing – users will be able to save webpages for later viewing, allowing them to access their needed information without the need to have, or waste, any sort of data connection (think bus schedules, cooking recipes, etc.).
The second one helps with the actual browsing when online. Dubbed Network Quality Estimator, this little piece of code will analyze the current data speeds that the user is surfing on and attempt to improve the browsing experience by adjusting the amount of detail the loaded web pages show. Sort of how the current Data Saver option compresses data before downloading it to your phone, but we'd imagine – much more in-depth and automatically adjusted.
Though Google said that the new features are made with developing markets in mind, there is no reason that the new features shouldn't be available internationally. Still, we will have to wait and see.