Google Cardboard is now available in over 100 countries and 39 languages
2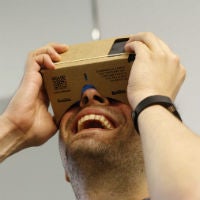 Many companies are racing to prove that VR is finally ready for consumers by pushing out impressive tech. But Google is taking a slightly different approach which basically says that you don't need an expensive headset and/or a high-powered PC to make it all work, you really just need the smartphone you already own and Cardboard.
Now, Google has announced that the Cardboard app has been translated to 39 languages and is available in over 100 countries. Oddly, the developer documents for Cardboard are only available in 10 different languages, so the international access to making VR apps is somewhat diminished. Google also announced that Cardboard compatible apps have been downloaded 15 million times, which is pretty impressive.
The SDK has been updated to make the experience better on devices with "lower-quality sensors", support Metal rendering on iOS, fully Unity-native distortion pass, and now allows developers to add Google Street View imagery to Cardboard apps.
Lastly, Google has released open designs to allow users to better build their own Cardboad viewer headsets, or for companies to build more "certified viewers" in case you want to buy something but want a bit nicer build than something actually made of cardboard.