Version 7.1 of the Google Camera app leaks with Social Share and more
1
Invalid image meta
Last month,
we passed along some leaked information about version 7.0 of the Google Camera app
that traced back to one of the pre-release versions of the Pixel 4. One of the things we learned was that Night Sight 2.0 will have an infinity focus option most likely pertaining to the new astrophotography feature. With Night Sight able to produce viewable photos under low-light conditions, an infinity focus could be part of a longer exposure setting that will allow users to capture images of stars in the night sky.
Social Share will allow users to post images on social media sites directly from the Camera app

Today,
9to5 Google revealed
information related to a near-final version of Google Camera 7.1. As we noted about Camera 7.0. it seems that version 7.1 was designed to give users more access to the screen creating a larger viewfinder (or if you prefer, a larger live camera preview). For example, the mode options that users can swipe through to select Night Sight, Portrait, Camera, Video and More is now found underneath the shutter button instead of above it. Other changes are minor; the 16:9 aspect ratio that was named "Full view" in 7.0 has been renamed "Wide crop" in 7.1. And the 4:3 aspect ratio has also undergone a name change from "Standard" to "Full image."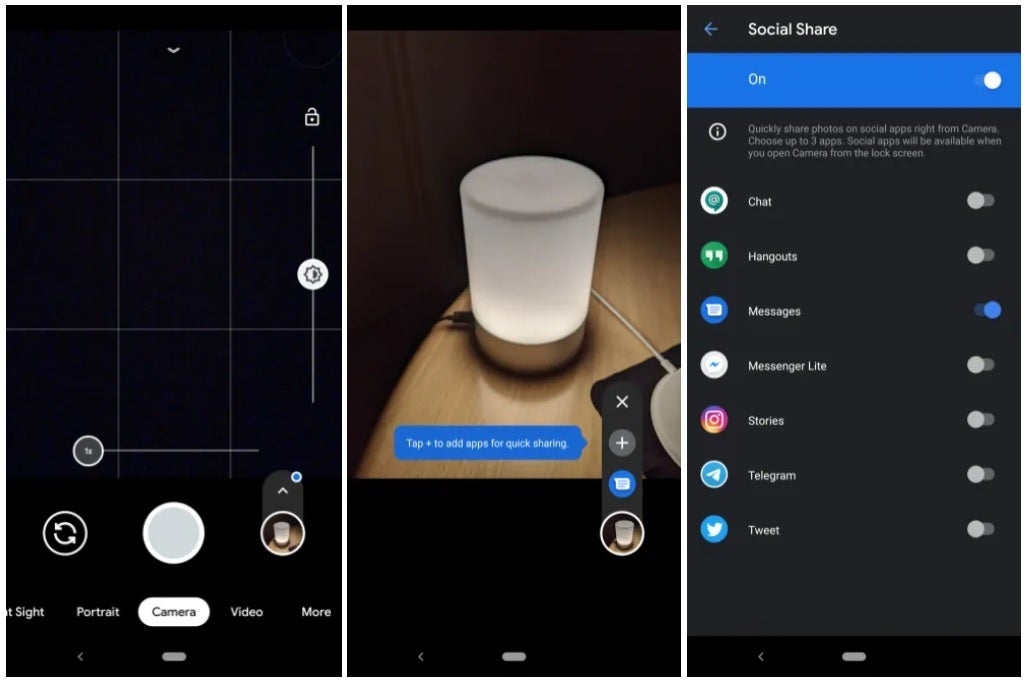 Screenshots from version 7.1 of the Google Camera app
Holding down the shutter button will start video recording, a new feature that many will be happy to employ. Speaking of videos, version 7.1 of the Camera app no longer allows users to select resolutions for video such as 720p, 1080p or 4K @ 30FPS. Instead, there will be an option for the rear camera that reads "Ultra-high resolution video (4K)." The app will also make framing suggestions to photographers such as "Raise camera for a better angle."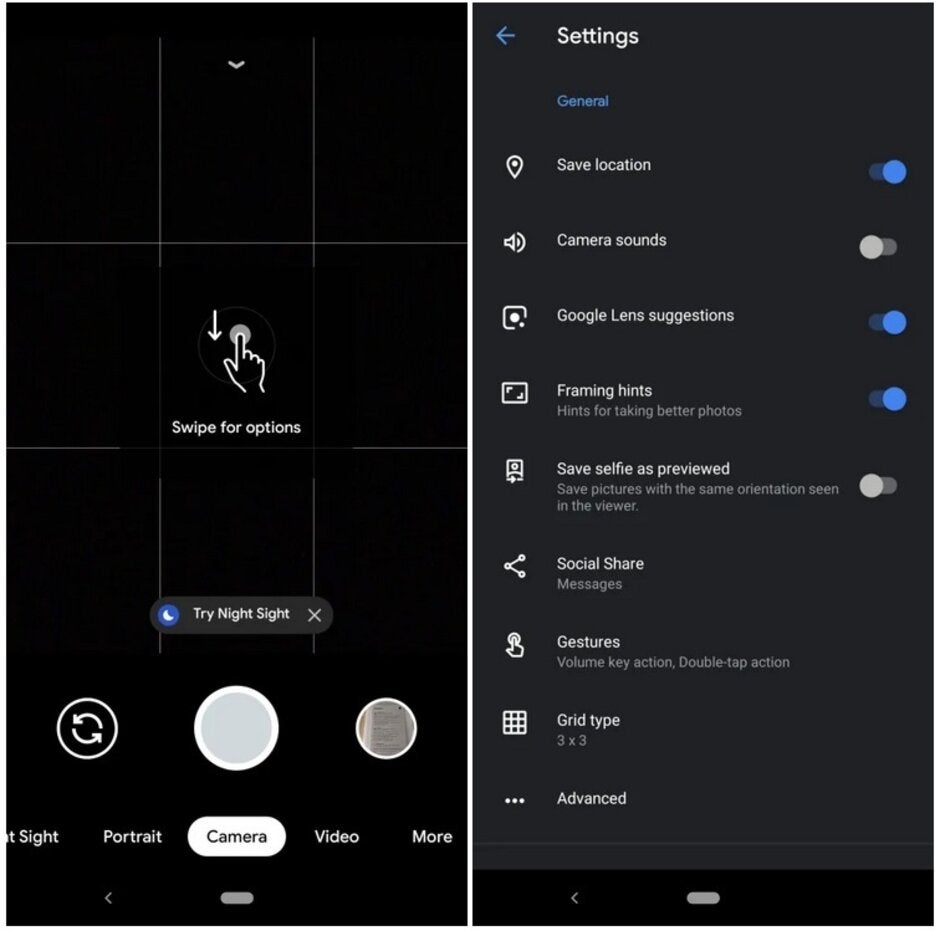 Google Camera version 7.1 will be pre-installed on the Pixel 4 series
A new option called Social Share will allow users to quickly share their images with up to three social media sites directly from the Camera app. And Photobooth, which was designed to snap selfies automatically on the Pixel 3 series based on certain triggers like a smile or a kiss, is now gone. Instead, the timer settings for the front-facing camera now include an "Auto" option along with choices for 3 and 10 seconds.
The Pixel 4 series will feature a square camera module on the back left corner of the phones. It will contain the usual 12.2MP primary camera but with a wider f/1.6 aperture. This will allow more light in. For the first time ever, the Pixel will include a second sensor in back as we expect to see a 16MP Telephoto camera with 5x optical zoom. Thanks to Google's image processing capabilities, the Pixels are considered to have one of the best-if not the best-smartphone photography systems. The question is whether Google sat back on its laurels for the Pixel 4. Apple really upped its game as far as the iPhone cameras are concerned by adding a Night Mode feature that could be just as good as the ones offered by Huawei (a non-contender in the U.S.) and Google. Apple also is about to roll out its Deep Fusion technology with the iOS 13.2 update; somewhat similar to the Pixel's HDR+, Deep Fusion captures different exposures before the shutter is tapped and combines them using AI to produce a sharper photo with less noise.
A week from tomorrow, October 15th, Google will introduce the new Pixel 4 family. Perhaps there is still time for some surprises related to the rear cameras. An Ultra-wide camera is not in the picture, so to speak, but could be found next year on the Pixel 5.