Google Assistant update arrives OTA on a OnePlus 3
12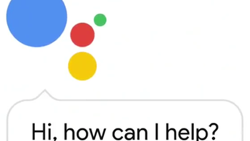 As you probably know by now,
Google Assistant is rolling out to all Android handsets powered by Android 6.0 or higher
. Because it is being done as an OTA update to Google Play Services, it does not require a lengthy testing period for carriers and phone manufacturers. One of our loyal Phone Arena readers dropped us a note tonight to tell us that he has received Google Assistant for his
OnePlus 3
.
Google Assistant is the latest AI virtual personal assistant for Android users. Unlike Google Now, Assistant is more conversational. With something like 500 million Android devices slated to receive Google Assistant, it might take some time before the update hits your phone. Still, as we can see from our tipster's OnePlus 3, the update is indeed beginning to land on Android handsets. Who knows, perhaps yours will be next!
Our tipster tells us that the update was received Monday morning. He sent us some screenshots that you can peruse by clicking on the slideshow below.
Thanks for sending this in, Ankit Soni!