Google: Android is safe
81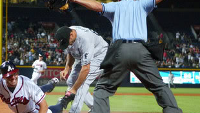 Google released today its
Android Security State of the Union 2014
. The report reveals a few statistics showing how hard Google is working to keep the Android operating system secure. According to the report, Google Play conducts 200 million security scans on devices each day. Overall, more than 1 billion devices are protected by Google Play.
With all of the headlines, it is easy to be nervous about downloading and installing an app on your phone. After all, you could be accidentally poisoning your own handset. But the odds of something like this happening are very slim. Google says that last year, fewer than 1% of Android devices installed a PHA (Potentially Harmful App). From the Google Play Store, only .15% of devices installed a PHA last year. And these numbers are improving. Between the first quarter of 2014 and the year's final quarter, the rate of PHA installations declined by 50%.
And there's more. SafetyNet checks out over 400 million connections a day for SSL issues like "man in the middle attacks"
similar to the Freak
. Last year, over 25,000 apps in the Google Play Store were updated after the developers received a security notice from Google Play. Android and Android partners responded after receiving reports of 79 security issues last year.
We're committed to making Android a safe ecosystem for users and developers. That's why we built Android the way we did—with multiple layers of security in the platform itself and in the services Google provides. In addition to traditional protections like encryption and application sandboxes, these layers use both automated and manual review systems to keep the ecosystem safe from malware, phishing scams, fraud, and spam every day...Android offers an application-focused platform security model rooted in a strong application sandbox. We also use data to improve security in near real time through a combination of reliable products and trusted services, like Google Play, and Verify Apps. And, because we are an open platform, third-party research and reports help make us stronger and users safer."-Google
Google says that it is continuing to make sure that Google is safe. Inside Google Play it is "
being even more proactive in reviewing applications for all types of policy violations
." Outside Google Play, it is enhancing its protection for high-risk devices and high-risk regions.
source:
Google
via
AndroidGuys