Gold Apple iPhone 5s goes for $10,100 on eBay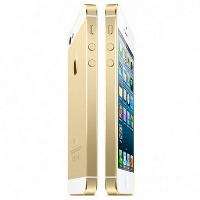 Most people interested in the
Apple iPhone 5s
realize that the gold and silver models are not made of real gold or silver, right? Well then, it must be the lack of availability of the device that led someone to pay a whopping (and we do mean whopping)
$10,100
to buy an unlocked gold Apple iPhone 5s on an eBay auction.
The eBay auction site is full of iPhone 5s models including one seller who is seeking $4600 for a bundle of three, all in gold. The problem is that
there is a shortage of Apple iPhone 5s units
with the gold model in particular in short supply. The reason for the shortage apparently revolves around low yields of certain parts from suppliers
including a chip for Touch ID
and
low yields of a camera lens module
. In addition, Apple did not expect so much demand for the gold colored version. Over the weekend, Apple announced that it
will increase production of the gold iPhone 5s by 33%
.
The new Apple iPhone 5s, when available, is priced at $199.99 for the 16GB carrier branded model with a signed two-year pact. Unlocked, the price starts at $649 for 16GB, $749 for 32GB and $849 for 64GB.
source:
eBay
via
BusinessInsider
,
Pocketlint