Going on an international flight bound for the United States? Make sure your smartphone is charged and working
19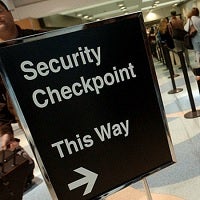 Security agencies at airports which serve as hubs to direct flights to the United States are being asked by the Transportation Security Administration (TSA) to ramp up security protocols over concerns of possible threats to air travel.
Among the enhancements travelers can expect to see will be increased scrutiny of electronics, particularly smartphones and tablets, and among them, Apple iPhones and Samsung Galaxy devices.
How will such devices be checked? Expect to be asked to turn the devices off and on, and make sure you give the phone a good battery charge. Devices that cannot power on will not be permitted on the flight. The concern is that smartphones or tablets could be rigged with explosives since they are such ubiquitous devices.
Flights bound for the US from Europe, the Middle East, and Africa will see the most noticeable uptick in security measures which will be implemented over the next couple days. Along with your smartphone or tablet, expect your shoes to garner more scrutiny as well.
source:
NBC News