Global smartphone shipments to crack 600 million units this year, Samsung leading the way
8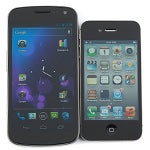 The world's smartphone penetration is developing much faster than anyone predicted, and is said to reach 17% of all phones sold this year, with 40% by the end of 2016, so there is a lot of market to be gained or lost in the next few years still.
We had roughly 452 million smartphones shipped in 2011, and this year they are projected to increase to 614 million units, according to the Taiwanese MIC institute, which would be a mindboggling 35.8% increase, mostly for the sake of featurephones worldwide.
As far as marketshare goes, the predictions go to Samsung with 21.7%, followed by Apple with 18.7%, Nokia with 15.6%, then HTC and RIM with 10.9% and 8.6%, respectively. That leaves only about 20% for all other brands, but surprises can certainly come from anywhere this year.