Getting rid of your iPhone 4S on the eve of the iPhone 5 launch? Gazelle locks in a timed $277 offer
6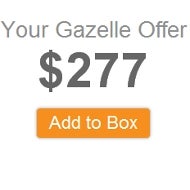 By October 1 you are guaranteed to fetch at least $277 for your 16GB AT&T
iPhone 4S
in good condition at Gazelle. Granted, you can get more on eBay or Craigslist, but if you don't have time to deal with the eBay drama, or to sit in Starbucks waiting for the next Craigslist customer, Gazelle is another option.
Hassle-free sales of the current iPhone have skyrocketed, Gazelle reports, and so will be the case on eBay and Craigslist, as usual before a new iPhone launches, so that locked-in $277 price might sound like a good deal just a few weeks down the road.
September 12
is fast approaching, so if you intend to get rid of your 4S and haven't done it until now, better hurry up, as the supply flood will lower the second-hand prices significantly.