Get your zen on with Paperama – an origami-inspired puzzle game
2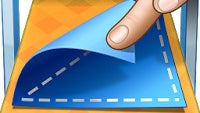 Origami isn't something you'll find on the menu of an Asian restaurant. It is not the name of a fighting style either. It is the ancient art of creating figures out of paper pieces through folding. It also happens to be what has inspired a neat new Android game called Paperama.
In Paperama, your objective is to fold a virtual piece of paper into a given shape without exceeding a specific number of folds. If you fold your piece precisely enough, you'll be allowed to move onto the next level – 72 of them, split into three categories, await to be conquered. If you're not accurate enough, however, you may have to try again. Don't worry, you have an unlimited number of tries, and there's no time limit either, meaning that you can tackle each stage at your own pace.
Paperama starts off with a few easy levels that are meant to get you accustomed to the gameplay. But before you know it, you'll already be playing the more serious stages. These require you to plan your every move as the number of folds you're given is very limited. Chances are you'll be using that Undo button a lot, and you'll probably need a hint every once in a while. Speaking of hints, you have only a few of them at start, but more will be added should you complete your levels with a perfect score.
Paperama can be played free of charge, so nothing is stopping you from giving it a try. The only in-app purchases offered are extra hints – three for a buck, or a hundred for $20.
| | |
| --- | --- |
| Developer: FDG Entertainment | Download: Android |
| Genre: Puzzle | Price: Free (with in-app purchases) |