Geico makes a boo,boo; ad shows Windows Phone app which doesn't exist
8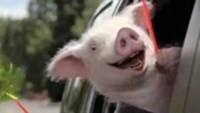 If you live in the states and don't know by now that calling Geico for 15 minutes could save you 15% on your auto insurance, well Mister, you're not watching enough television. The insurer has actually created a stable of characters including the Geico gecko and his cockney accent, and some random talking pig who is always carrying his smartphone with him. This way, he can show off the Geico app which is available for iOS and Android.
Either Geico made a mistake, or this pig has some good connections. Regardless, the porker happens to be at a football game when he starts showing off the Geico app on his phone. The pig is clearly holding a Windows Phone handset, but there is no Geico app in the Windows Phone Store.
So with all due respect, we'd like to edit the ad so that the voice over announcer at the end says "
Geico. Anytime, anywhere. Unless you're using a handset powered by Windows Phone
." Anyone hungry for some bacon?
source:
GeicoInsurance
via
WMPoweruser