Geek fashion: best phone and tablet pants, sweaters and jackets
8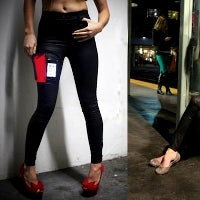 Integrating your smartphone or tablet with articles of clothing is nothing new, and has existed in one form or another since the start of the smartphone addiction around the time of the first iPhone.
Lately, though, besides mostly homebrew
prank gear for Halloween
or Christmas, we've seen reputable clothing companies starting to think of ways to carry and use your phone beyond the usual inside phone pocket, and even making room for tablets in a windbreaker.
We now have the trendy girl pants that let you go clubbing with the bare necessities - keys, phone and a chunk of change - without worries that the slim fit won't let you sit with the phone in your pocket, and we have a jacket that lets you use the phone through the pocket it's in. Take a peak at the dorky fashion collection below.