iGenius! Two iPad 2 units using FaceTime are used to complete a bloody Halloween costume
13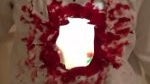 Oh the wonders of what some ingenious thinking can produce, especially when it's Halloween, as one individual managed to complement his outfit by integrating two
iPad 2
tablets together to come up with something that'll be sure to catch some eyes.
We all know the
benefits
of FaceTime, but its usefulness is being served for other purposes this time around – and in this case, it's used to complete a grotesque looking costume. Essentially, a cutout is made on the front and backside of the costume, where the iPad 2 tablets are duct taped and positioned parallel to one another. From here, they're connected via Wi-Fi to give onlookers that see-through appearance with the costume – well, as if someone shot a massive hole through his body.
Thinking ahead, he mentions that a Mi-Fi unit can be used if the Wi-Fi connection is too sucky – albeit, we imagine what kind of data usage he'll rack up after a night of flaunting the costume. Nonetheless, you can still get in a good round of Angry Birds if you really wanted to kill some time. Thinking about it more, we wonder if anyone else out there can top this costume?
via
All Things D