Garmin Fenix 6 hands-on
4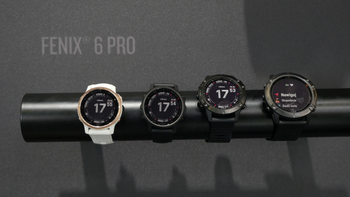 Garmin's flagship smartwatch, its most advanced and most expensive one, made for the high performance athletes, has just gotten its latest edition: this is the Garmin Fenix 6.
Or we should rather say: these are the Fenix 6 series, as there is a bunch of different sizes and versions, from the basic one to a fancy solar-powered edition with sapphire glass.
We got to spend some time with one of the Fenix 6 watches at IFA 2019 and we can say right away that it feels extremely sturdy, it truly is built like a tank. The buttons on the side make navigation easier and you don't need to rely on a touchscreen display. This is the correct decision for such type of watch: it's commonly used in extreme environments, either with gloves or with wet hands, which would make relying on a touchscreen problematic.
The version you see above features a gold body and it's the smallest edition of the Fenix 6, one that would look great on smaller wrists and women (and some guys) can easily wear this and still claim some style points.
Here is a quick peek at the main functions of the Fenix 6 and how it's different from the previous, 5 Plus edition:
Heart rate and Pulse Ox sensors
More detailed running and cycling measurements
Multi-GNSS satellite and outdoor sensors
Power manager gives you ways to stretch battery life
Messaging, alerts and notifications
Garmin Pay
Sports apps, ClimbPro feature
Topographical and ski maps
Golf courses
Turn-by-turn navigation
Music apps (including Spotify)
Price and Release Date
The Fenix series are Garmin's most feature-packed smartwatches, and they are aimed at serious athletes. That is why you should not be surprised to see they are priced accordingly: ranging from $600 to $1,150 for the solar-powered version of the Fenix 6.
Since there are so many different versions of the Fenix 6 with so many different prices, let's try to break them down by categories.
First, you have three sizes: a small, 42mm model, a medium, 47mm version, and a gigantic, 51mm variation. The S and M models start at $600 for the base models without music, maps and Wi-Fi. If you want those features on the S and M models, prices go up to $700. If you opt in for sapphire glass on the S and M models, the price goes up to $800.
The large, 51mm model starts at $750 and it's only available with music, maps and Wi-Fi. If you opt for sapphire, the price grows to $850. Only this gigantic size supports the solar-powered feature and it brings the price up to a whopping $1,150.
Garmin has not announced a specific release date just yet, but we expect the watches to be available in about two months time,