Galaxy Tab 8.9 may have thicker, dimmer screen in some launch devices
5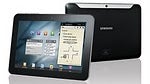 Some bad news has surfaced for those of you looking out for a Samsung Galaxy Tab 8.9. The world's thinnest tablet may not be so thin depending on where and when you grab your device. A bit part of the tablet's sleek profile is because it's screen is incredibly thin, but that thin screen may not be making it into every new Tab that comes out.
It's being reported that there have been shortages in the G1F screen. Samsung had been planning to ramp up production of the Tab 8.9 tablet at the end of this month with the help of two display panel manufacturers. Unfortunately, the yield ratio for the G1F panels have been too low to meet projections. As a result, Samsung has brought in two panel manufacturers to make up the difference using GFF panels.
The trouble is that the GFF panels are 30-40% thicker than the G1F panels, and because of that extra thickness, the panels are not as bright. Making things even worse is that the two different panels will be mixed in to the same shipments, meaning there is no telling which one you got until you unbox your new tablet.
Recommended Stories