Galaxy S7 and S7 edge get Android 7.0 Nougat on Sprint
5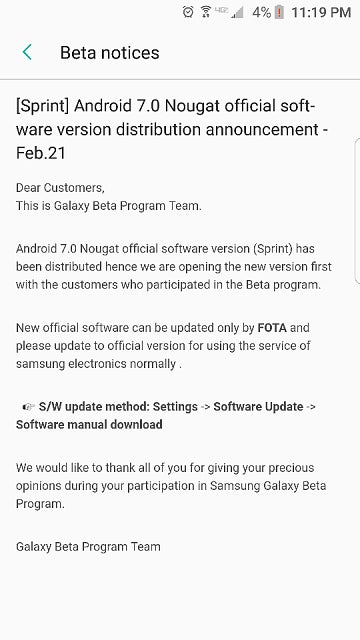 Beta users get dibs on Sprint's S7 Nougat update
While the Samsung
Galaxy S7
and
S7 edge
are unquestionably great in almost every aspect, it's not always plain sailing for those rocking Sammy's still-flagship duo. No matter how many bells and whistles they can boast, they're not exempt from those oh-so-slow firmware updates and hence, many owners have still not yet seen any of the six-month-old Android 7.0 Nougat. Still, Sprint users can today breathe a sigh of relief, for the long-awaited Nougat roll-out has finally begun.
AT&T
has been busily pushing
Nougat out to Galaxy S7 and S7 edge users in recent times,
as has T-Mobile.
Now, it's Sprint's turn, and as with T-Mo, beta Nougat users are getting the nod ahead of the general public. If you're already running the beta version on your S7 or S7 edge, a 167 MB care package should be on its way through cyberspace.
Provided there are no hiccups, those outside of the beta circle will subsequently be able to get their hands on Android 7.0 Nougat. Unsurprisingly, that download will be more substantial in size, weighing in at around 1.2 GB. With this in mind, you may wish to ensure that you've freed up enough space so when the time comes, you'll be ready to dive straight in.
For now, beta users can try to help things along by navigating through
Settings --> Software Update
and snagging it manually. The wider audience can hopefully expect the OTA to reach over the coming days and weeks.