Galaxy S7 Edge name confirmed by Samsung, check out the new edge display features
39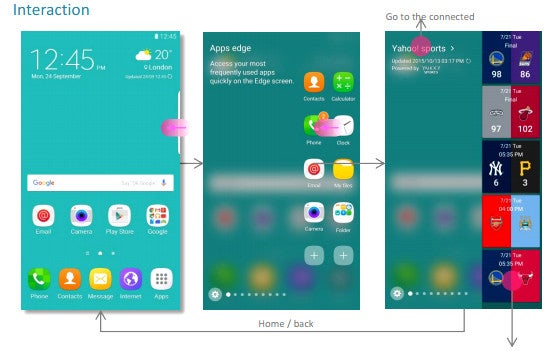 Edge Single Plus display mode
UPDATE
:
All S7 Edge references have now been removed from Samsung's website, but we managed to get the screengrab that you can see in the slideshow below.
So far, we've had only tangential proof that Samsung might announce a version of the
Galaxy S7
with a flexible display curved on the sides, like on the
Galaxy S6 edge
or
S6 edge+
. The rumors are that this will be a handset with identical chipset and camera, but a larger, 5.5" display, and a bigger, 3600 mAh battery pack, when compared to the 5.1" screen and the speculated 3000 mAh juicer of the S7.
Well, we no longer need to guess if there is such a mysterious device in the making, as Samsung itself has listed a "Galaxy S7 Edge on its own website. The mention appears in the developers section of Samsung Mobile's pages, where it explains to developers how to use the Look SDK that is meant to create apps specifically for the unorthodox input methods that the company brings with its unique Edge displays and the S Pen stylus on the Note series.
There, Samsung talks about the ways to overlay information with the edge display, like the narrow type mode, also called Edge Single, or an Edge Single Plus wide regime, where the overlay can show much more information when you pull the side tab. The description says that the new ones will be supported on "
Galaxy S6 Edge M OS, Galaxy S6 Edge+ M OS and Galaxy S7 Edge M OS
," which we'd wager to guess means with the Marshmallow update of last year's handsets that
we've already seen in a beta form
, and these exact features will be on the S7 Edge out of the box, it seems.
The Edge Single Plus display option can be used in the three distinctive ways you can see demonstrated in the slideshow below - the Quick access, Quick view and Quick control types. As if to corroborate these fresh modes, yesterday leakster Eldar Murtazin hinted that the 5.5" S7 Edge will bring about new apps and features that can be launched from the curved screen sides, though he couldn't specify what these might entail. Well, look at Samsung's own descriptions, taken directly from the Samsung Galaxy edge UI design guidelines, and the Look SDK website.
Recommended Stories