Galaxy S6 edge versus iPhone 6: vote for the better smartphone!
99+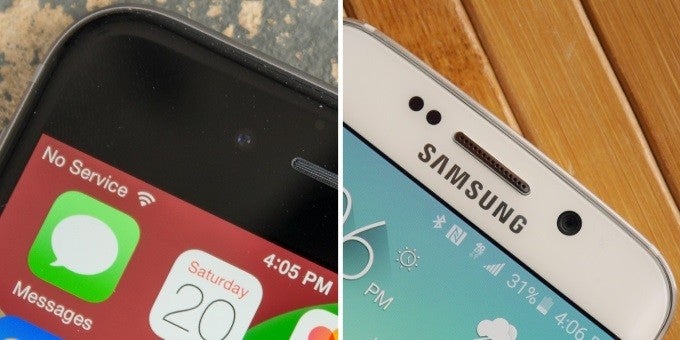 Introduction
What a time to be alive, friends! Last year, Apple blessed us with the best iPhone ever. And this year Samsung launched its most innovative smartphone yet, the Galaxy S6 edge. But which is better? We've already said many things about each, so we figured we'd take a step back and let you, our distinguished readership, have your say. We'll sit down with the GS6 edge and the iPhone 6, examine their features and performance in the most important aspects, and ask you to vote for your favorite. Have your way, boys and girls!
Design
The Galaxy S6 edge is a seriously attractive smartphone, but we don't really think its eye-catching game boils down to its curved display. In fact, we consider the dual-edge screen merely as the icing of the cake, finishing off the original Galaxy S6's elegant appearance with modern flowing contours. Moving onto the materials, lucky owners of the Galaxy S6 edge won't be holding creaky plastic in their hands, but rather a decidedly premium blend of metal and glass.
Of course, Apple's crown jewel still looks great next to it with that polished anodized aluminum build, the smooth laminated display, and the shiny Apple on the back. Come on, the iPhone 6 is the best the iPhone ever looked! Everything about it has been rigorously thought out, even those plastic strips on the back somehow fit in the picture. However, the S6 edge has a literal edge in durability. Covered in tough Gorilla Glass 4, the smartphone is strong enough to withstand the torment of daily use, but is free of unnecessary bulk. It also comes in a bunch of lively colors, with the Emeral Green striking us as particularly "you'll never have it on an iPhone"! Apple still relies on a mature, reserved color palette comprised of gray, silver, and champagne gold.
The question now is how well will each smartphone sit in your palm? Well, dimensions-wise, the Galaxy S6 edge measures 5.59 x 2.76 x 0.28 inches (142.1 x 70.1 x 7 mm), which means it won't sit in there much worse than the iPhone 6 does, although it is a considerably bigger device - the iPhone measures 5.44 x 2.64 x 0.27 inches (138.1 x 67 x 6.9 mm), which undeniably results in better portability.
Check out the design shots below, and vote for the smartphone you think looks better.
Display

The Samsung Galaxy S6 edge and iPhone 6 feature completely different displays. The S6 edge comes with a Quad-HD (1440x2560) resolution AMOLED display which packs a whopping 3,686,400 pixels on a panel measuring 5.1 inches by diagonal! This results in a mind-boggling pixel density of 576 pixels per inch. Meanwhile, the iPhone 6 only has a 4.7-inch IPS LCD screen with a resolution - 750x1334 - that seems laughably low in comparison. And its pixel density is "only" 326 PPI.




Does that really matter? We respect your opinion, but when it comes to high-end mobile displays, we consider color reproduction, image quality, and brightness levels as more relevant than the number of pixels per inch. Comparing the S6 edge and iPhone 6 in our display benchmarks, it appears both exhibit similar high quality in brightness levels, gamma, and Delta E characteristics. But the S6 edge boasts more accurate colors and less image quality distortion when viewed at a 45 degree angle. It is, hands down, the superior display.

Check out the display measurements below, and vote for the display you think looks better.




Display measurements and quality
Interface and functionality

Comparing TouchWiz-skinned Android and Apple's iOS is, for the most part, pointless. They are two of the most popular operating systems in existence! You know full well what to expect from them, although we have to note that Samsung has continued its effort to tighten up TouchWiz. The company gets its customers' needs for simple, efficient usage patterns much better than before, presenting a refined, clean interface with way fewer menus, submenus, gestures, toggles, and confusion to handle. iPhone users have long been enjoying simple, practical functionality, even if iOS is still very bare in customization options and gesture control.

Of important note is that both smartphones feature high quality fingerprint sensors that serve to implement extended security measures and proprietary payment systems. In addition, the Galaxy S6 edge features a heart-rate sensor, which is able to measure your pulse or double as a shortcut for camera-related functions.

Check out the interface comparison below, and vote for the user experience that appeals more to you.









Camera

The Samsung Galaxy S6 edge comes with a respectable 16MP unit on the back, while the front cam is a pretty adequate 5 megapixels. This camera boasts Auto Real-Time HDR, Smart Optical Image Stabilization, and IR Detect White Balance features for advanced light sensitivity. In addition, it's got a brand-new 'Quick Launch' gesture which lets users simply double-press the home button and launch the camera app in 0.7 seconds (yes, Samsung measured it). The iPhone 6, meanwhile, packs just an 8-megapixel main camera and a 1.2-megapixel FaceTime front camera.




Megapixels aren't all that make or break a digital camera, though. The iPhone 6's camera - which is one the world's most popular cameras, by the way - is tuned to take remarkably sweet photos that nail the right balance between natural and artificially-sweetened colors. It also fares pretty good in the low-light shooting department, and takes pictures very quickly. In other words, it gives you everything you want from a point-and-shoot cam.




But if you want larger photos and 4K video shooting, you'll have to pick up the Galaxy S6 edge. And its camera is the best you can have on a smartphone right now. The 16MP Sony sensor captures lots of detail and is capable of producing remarkably clean, crisp photos - especially in great lighting conditions. In poor lighting, the results are still decent, although they definitely aren't on the same level. But iPhones and Galaxy smartphones get better in that department each year, so Apple and Samsung will work it out eventually.

Check out the camera samples below, make up your mind, and vote for the cam you think its better!

Well, there you have it! Vote away and voice your opinion in the comments.