Galaxy S6 Plus leaks on video, confirming it's a larger version of the S6 edge
26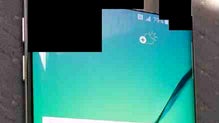 If you ever thought that the rumored Galaxy S6 Plus was a bad joke, created out of someone's fantasy, think again, as 'tis the season of the Plus sizes. One Marques Brownlee, of YouTube gadget reviewing fame, has gotten his mitts on the Plus versions of both the HTC, and Samsung flagships for the season, providing us with an exclusive look of the S6 Plus in the process.
Well, it looks just like the "regular"
S6 edge
, curved screen on the sides and all, but notably larger, for those who can't satisfied with a 5.1-incher anymore. It is a smart move on part of Samsung, as Android's screen diagonals are getting larger and larger on average, so once you try, say, a 5.5" handset, it becomes harder to go back to a 5" one, no matter what's stuffed inside, or how good it looks.
A Galaxy S6 Plus would fill that gap in perceptions, and keep the bench warm while the inevitable
Note 5
, with even larger screen, arrives. The S6 Plus is expected to sport a hexa-core Snapdragon 808 processor, just like the
LG G4
, but the rest will likely stay the same - a 16 MP rear and 5 MP front cameras, as well as 32 GB of storage from the get-go.