Galaxy S5 camera sports new, six-lens optics, and Samsung has trouble producing it
23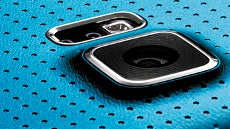 Samsung
Galaxy S5
's production rate was allegedly threatened once already, when a
PCB supplier plant caught on fire
. As if this scare wasn't enough, now Korean media is reporting that Samsung is running into problems with the yield of its new
16 MP ISOCELL
camera.
Actually, it is not the sensor itself that is a problem, but rather the lens optics on top of it. The publication claims that Samsung is using a new, 6-elements lens, which has to fit in the same slim camera module, as before. Molding the complex optics to be precisely centered, however, turned out to be an issue. "
On a thin lens, even the slightest flaw results in a considerable optical distortion
," advised one industry insider. "
To make plastic lens thinner, a more accurate mold technology is necessary.
"
Samsung apparently makes the mold internally, then sends it to lens suppliers, which are more skilled in applying the injection technology, and struggle with the required new level of precision. Full capacity was allegedly expected to be reached last month, but the orders keep getting delayed. The insiders revealed that current production yield of the dreaded lens assembly, is only 20-30%. Obviously, Samsung has to ramp this up significantly, if it wants to meet its own launch target with the Galaxy S5.
During the official unveiling, the company said that its new flagship will be
released on April 11th in more than 150 countries
worldwide. If camera troubles continue, though, some regions might have to wait more than others, until Samsung straightens the production capacity out. Samsung's supply chain engineers are said to all but sleep in the lens assembly factories, so hopefully the yield issue will be resolved on time.