Which Galaxy Note 9 color to get? Here are their secret meanings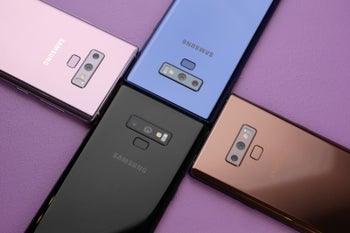 Ocean Blue, Lavender Purple, Midnight Black, and Metallic Copper are the four wonderful
Galaxy Note 9
colors that customers will be able to choose from, and there's no denying that each and every one of them looks absolutely gorgeous. If you're feeling tempted to splurge on a Galaxy Note 9 (honestly,
who
can blame you?), it's perfectly normal that you may be having a hard time choosing the color variant that you like most. After all, they all seem to be fantastic eye-catchers.
What your choice of Note 9 color says about you
Well, guess what: each of these Note 9 colors have different things to say about you. Believe it or not, the one you ultimately end up choosing is going to reveal a fraction of your own personality to the world. Surely you want to know what message you're projecting to those around you with your choice of Note 9 model, right? Let's see what each of them means!
Galaxy Note 9 in OCEAN BLUE color
This is the Note 9 flagship color. The one Samsung is putting on ad spots and billboards. Humans have a remarkable fascination with color blue, which is understandable considering this is the color of the sky and, yes, the ocean. Blue is calmness, wisdom, purity, depth and stability. If you pick the Ocean Blue Galaxy Note 9, you're showing the world that you feel confident, mature, yet there's more beneath the surface. It's deceptively calm and simple, but who knows - a storm might be brewing right around the corner. Not necessarily a bad one, though: it may be a storm of ideas, inspiration, or passion.
In combination with the yellow S Pen, this version of the Samsung Note 9 escapes from the uber-popular blue-orange scheme to create a more original, but still decidedly stylish appearance. It's instantly respectable, while the more unusual yellow accent brings in a sense of openness and creativity.
Galaxy Note 9 in LAVENDER PURPLE color
Ah, the Lavender Purple one! This one is truly special, because it's so delicate and gracious. The Lavender Note 9 has some of the inherent passion in purple, but it feels more mature and down to earth. Still, this doesn't take from the elegance and delicacy of this intelligent, rare color.
Getting this Galaxy Note 9 color would communicate that you're special, that it's not every day that people run into sophisticated individuals like you. Everyone knows Red, Green, and Blue, and what they stand for. However, purple is a way more complex and multifaceted affair - one that is full of drama and just a pinch of self-centeredness.
Galaxy Note 9 in MIDNIGHT BLACK color
Hmm, what shall we make of this shady one? If you're feeling a strong pull from the Midnight Black Note 9, you're clearly a strong, serious, maybe even somewhat mysterious person. You're not quick to reveal your thoughts and feelings, but that doesn't mean you don't like people. Such a deep level of black is basically a synonym for the unknown, for the undefined; it's for people who don't want to commit to just one color. They are wise enough to know that what seems rad and fresh today, will be out of style tomorrow. Not black; black is always in style. And it goes with everything.
Maybe it's that you don't have time to find the right shirt to match your purple phone, or maybe it's just that you find all those "fashion" things too distant and abstract to to bother with, and simply want something that works! Either way, the Midnight Black Note 9 is pretty much your only option if that's the case. Samsung used to have a stately "Arctic Silver" version in the previous Note generation, which was cool if you wanted to remain color-agnostic but not go so dark, but alas, it's not part of the Note 9 line-up. Anyway, this is obviously the choice for people who are driven and mostly all-business. There may still be some fun in the office, but you know you'll probably be working late, again.

Galaxy Note 9 in METALLIC COPPER color
A wonderful new Galaxy Note 9 color choice is Metallic Copper. Very close to its cousins: gold, brown and coffee, Metallic Copper bears a lot of the same significance, including success, prosperity, determination, and grandeur. Some may recall there was a variant of the Galaxy S5 called Copper Gold, which was quite similar.
Metallic Copper is just as sophisticated as Lavender Purple, but in a considerably different way. While Lavender was more about delicacy, passion and feeling, the Note 9 in Copper comes with a stronger down-to-business connotation. Make no mistake, though, this Galaxy Note 9 color wouldn't mean that you're as literal as a spreadsheet or as cold as a calculator. No, there's way too much warmth in it, and the inherent glitz that comes from the gold connection sure makes it a good match for driven artistic people.

Just get the one you like the most
When all is said and done, do not let labels define you. Be the artist and writer of your own life - just get the color that feels right! At the end of the day, it'll still be the one that goes best with your personality, so you won't be sending a wrong message to those in your vicinity. It'll still reflect who you are, so trust your gut and you won't make a bad choice.
Which one do you pick?