The Mate X August release may beat Galaxy Fold to the punch
7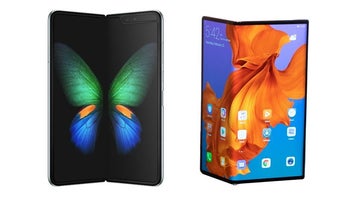 Samsung is gearing up for the final release date of the
Galaxy Fold
, after the few preview specimens it sent out to tech reviewers and assorted "influencers" were either abused or exhibited strange display artifacts. Korean media reported recently that it has actually managed to solve the two glaring problems that emerged during the real-life operation of the Fold - the top layer looking like a screen protector, and the peeling on the crease edges..
During the announcement of Huawei's newest phones in the Nova 5 series, on the other hand, the mobile department chief disclosed some news around the foldable Mate X release, too. It seems that the phone hasn't been delayed to test it further for the mishaps that happened with the Galaxy Fold preview units, but rather because it awaits 5G testing and "certification" which we'd wager to guess means a wait to see what happens with Huawei's Google Services ban.
Well, today's
report
out of China is that the TAH-AN00 codename (denoting the
Mate X
), has obtained a network access license from the Chinese Ministry of Information Industries, and the phone's last release hurdle has been overcome.
This jibes in with the report that the White House administration will be relaxing the bans it imposed on Huawei suppliers before the mid-August deadline, so we might very well see Huawei launch the world's first mass-produced foldable phone before Samsung.