Samsung Galaxy Buds Live vs AirPods Pro
7
We may earn a commission if you make a purchase from the links on this page.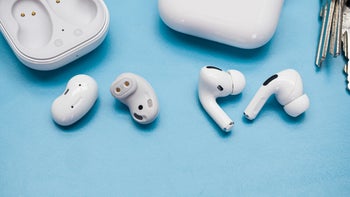 Samsung
has finally made its new truly wireless earbuds official – the
Galaxy Buds Live
. Naturally, people who are interested in getting wireless earbuds may be wondering how the Buds Live fare against Apple's AirPods Pro, which too have active noise cancellation (ANC). Well, we have them both here, and these are the conclusions.
Galaxy Buds Live vs AirPods Pro design and comfort

To the left is how the Galaxy Buds Live look in-ear, to the right – AirPods Pro
With their unique bean-like design, the Galaxy Buds Live are arguably more comfortable and better-looking when in-ear. On the other hand, the AirPods Pro are easier to take in and out of your ears, as they have stems to grab on to, and thanks to their rubber tips, are more likely to fit in most people's ears snugglier. To be fair, we tested how the Buds Live fit on several people, and nobody had issues, everyone found them snug and comfy. If anything, people had issues figuring out how to place the Buds Live in their ears the first time, because of their unique design making it unclear which side should be facing upwards.
Galaxy Buds Live vs AirPods Pro sound and active noise cancellation comparison
As for how the Galaxy Buds Live sound over the AirPods Pro – the Buds Live have a slightly richer sound, with stronger (but not overpowering) bass. Both earbuds produce clear mids and highs, but the AirPods Pro have almost non-existent bass.
The AirPods Pro do, however, sport much stronger active noise cancelling (ANC), blocking background sounds almost completely. The Galaxy Buds Live's ANC is good too, but nowhere near as strong, always letting the user hear sounds from their surroundings.
This is likely on purpose, as Samsung says that the ANC on the Buds Live is aiming to reduce low-band background noise, such as the engine of a bus or a train, while still allowing for users to hear sounds that may be important, like voices and announcements. To be fair, hidden in the iPhone Bluetooth settings is an option to set the AirPods Pro to "transparent" ANC mode, which also allows for letting more sounds in.
Galaxy Buds Live vs AirPods Pro voice assistants comparison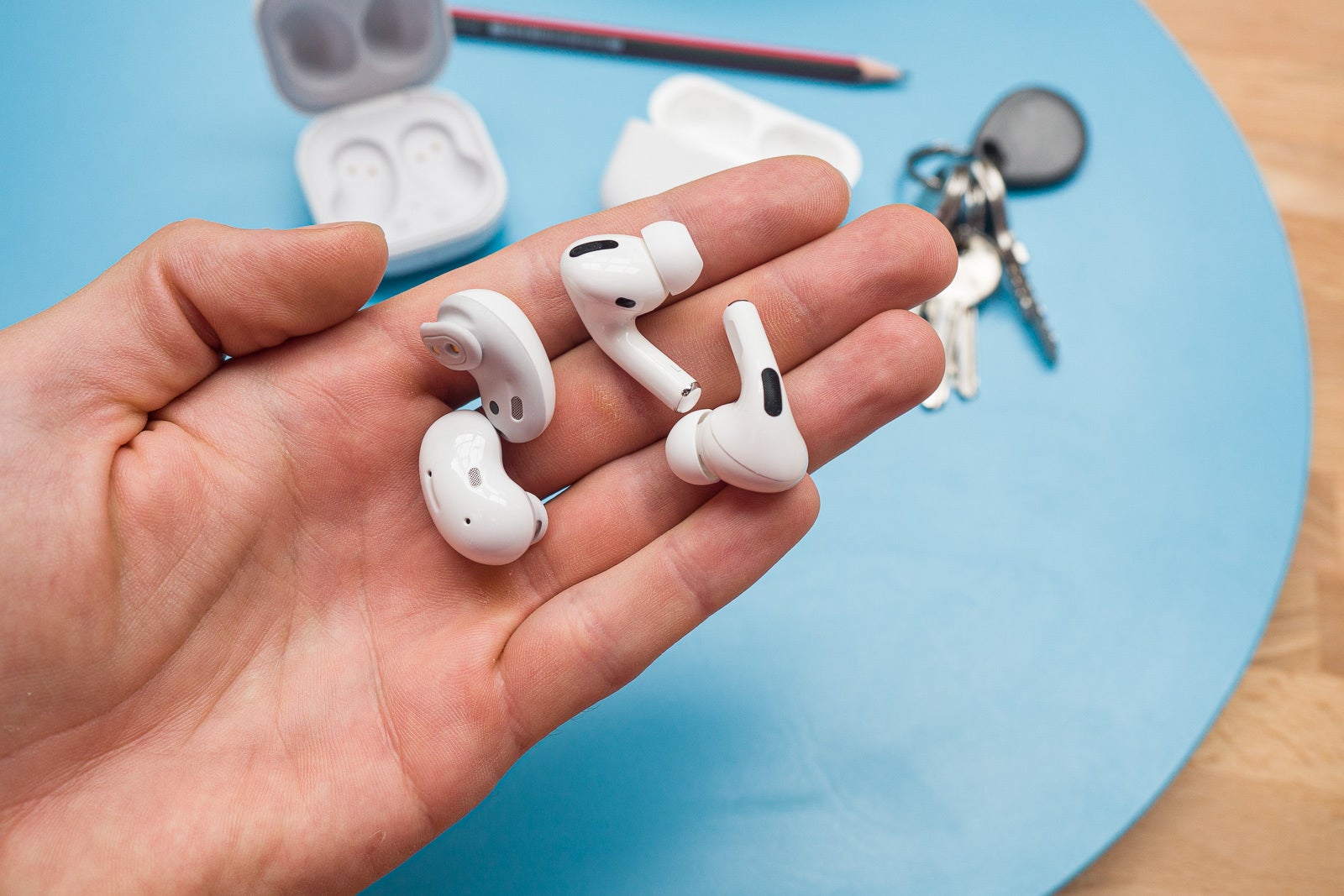 With the AirPods Pro you can summon Siri for a hands-free experience, so long as you're also using an iPhone. In turn, when using the Galaxy Buds Live you can enable the use of Samsung's smart assistant – Bixby – so long as you're using a Samsung phone.
The respective smart assistant can be voice-activated and asked to check the weather, play music or send a message to a friend, for example, entirely hands-free. It can also be triggered via a touch gesture on both the AirPods Pro and Buds Live.
Galaxy Buds Live vs AirPods Pro customization options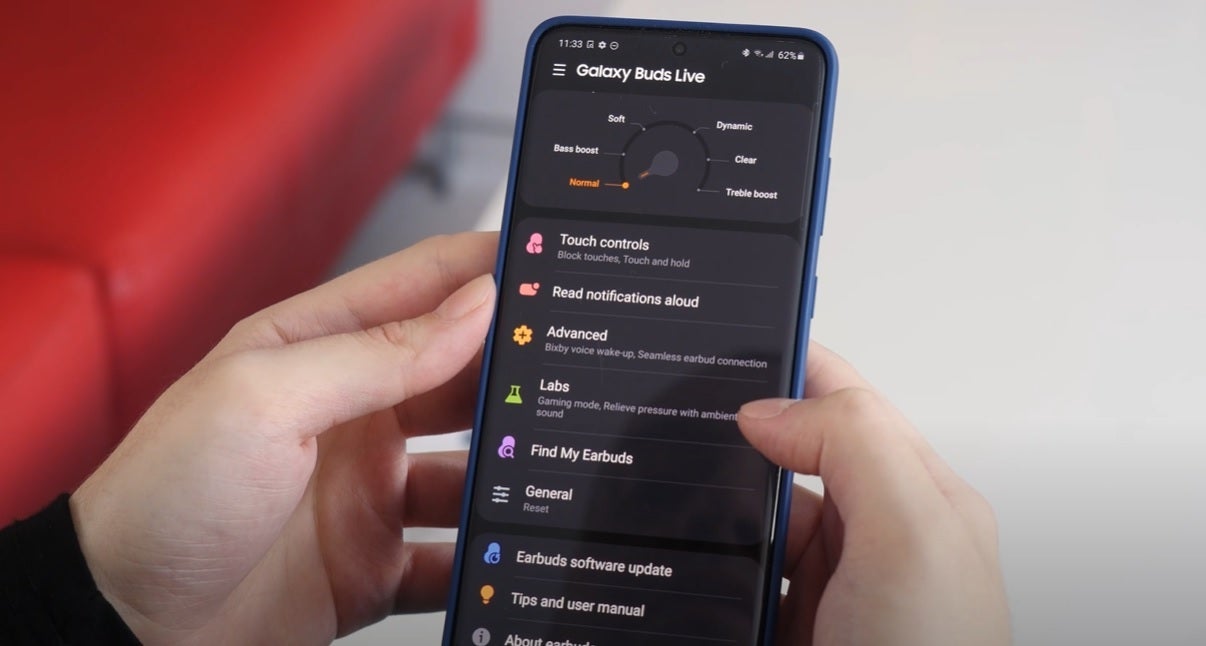 The Galaxy Wearable app allows for customizing your Galaxy Buds Live
The Samsung Galaxy Buds Live can be used with the Galaxy Wearable app if on Android, which is preinstalled on Samsung phones. It has a built-in equalizer, customizable touch gestures, the option to turn ANC or Bixby on or off, and even a tutorial on how to place the earbuds in your ears.
As for the AirPods Pro, on an iPhone you can access their customization options through the Bluetooth menu. Their options include "noise control" for enabling or disabling ANC or setting it to "transparency" mode, and setting user-customizable gestures. However, for equalizing your music (for example bass boosting it), the Music app's equalizer needs to be used, and its equalizer setting won't apply for music played in other apps.
Galaxy Buds Live vs AirPods Pro battery life comparison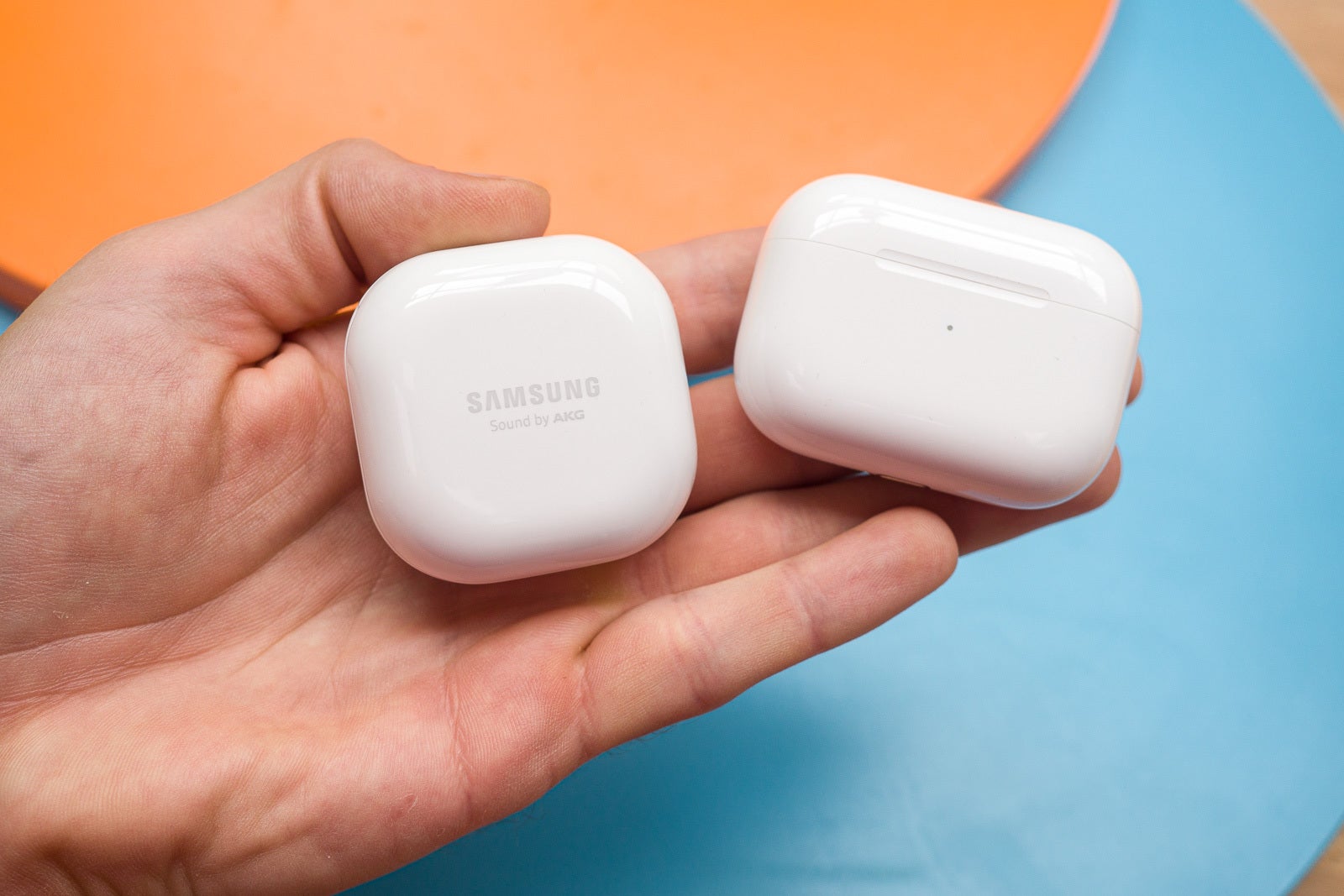 To the left is the Galaxy Buds Live case and to the right we have the AirPods Pro case
As for the battery life difference between the Galaxy Buds Live and AirPods Pro, there really isn't a noticeable one during real-life usage. Both can last for up to a work week if they're used with the case, depending on whether ANC is on or off, and frequency of usage.
According to Samsung, the Galaxy Buds Live can last up to 21 hours of usage on a single charge, with ANC on (and Bixby off). In turn, Apple promises more than 24 hours of music listening time for the AirPods Pro with ANC on.
Both the cases of the Buds Live and AirPods Pro are Qi certified, and thus support wireless charging. For charging the old fashioned way, the AirPods case uses a Lightning cable, while the Buds Live case uses USB Type-C.
Bluetooth pairing and connectivity range
Both the Galaxy Buds Live and AirPods Pro rely on Bluetooth 5.0 for connectivity. Samsung phone users can simply open the Buds Live case near their smartphone to start the pairing process, much like iPhone users can do the same with the AirPods Pro. If using a phone from a third party brand, there's always the option of standard Bluetooth pairing.
The AirPods Pro have a stronger and longer-ranged connection to the user's phone over the Buds Live. In an experiment, I was able to leave my phone in one corner of an apartment, walk to the other corner while wearing the AirPods Pro, and even close a door behind me without the music skipping a beat. With the Buds Live, connection issues started occurring as soon as I reached the other end of the apartment, and of course got worse when I closed a door behind me.
So, if you want to leave your phone somewhere and be able to walk decently away comfortably without music interruptions, the AirPods are the safer bet. However, the Buds Live are still more than competent enough, and most people would likely never go that far as to experience Bluetooth interruptions.
The Buds Live on the other hand are a bit weaker in their connectivity range. When using them, your music may start getting scrambled at about 12 steps away from your phone, which is still very good, just not on par with the Buds+.
Samsung Galaxy Buds Live vs Apple AirPods Pro prices
Here are the main specs and feature points of the Buds Live, Samsung's first true wireless earphones with ANC, against Apple's venerable AirPods Pro and a few other notables, including the Galaxy Buds+:
Price
Battery life
Samsung Galaxy Buds Live

$169.99

6 hours (ANC on)
8 hours (ANC off)
Charges in the case - 4
Apple AirPods Pro
$249
4.5 hours (ANC on)
5 hours (ANC off)
Charges in the case - 4
Samsung Galaxy Buds+

$149.99

11 hours
Charges in the case - 1
Jabra Elite Active 75t
$199.99
7.5 hours
Charges in the case - 3
Apple AirPods 2
$149 ($199 w/ wireless charging case)
5 hours
Charges in the case - 4
Sony WF-SP800N

$148

11 hours (ANC on)
13 hours (ANC off)
Charges in the case - 1
Sony WF-1000XM3
$178
6 hours (ANC on)
8 hours (ANC off)
Charges in the case - 3
Amazon Echo Buds

$130

5 hours
Charges in the case - 3
Samsung Galaxy Buds Live vs Apple AirPods Pro vs Buds+ specs and features
ANC (Active Noise Cancellation)
Features
Samsung Galaxy Buds Live
Yes
Fast charging
IPX2 resistance against splashes
3 colors
Hearthrough mode
Bixby voice commands
Touch controls
AKG tuneup
Apple AirPods Pro
Yes
IPX4 sweat- and water-resistance against splashes
One color
Transparency mode
Siri voice assistant
Touch controls
Wireless charging
Samsung Galaxy Buds+
No
Long battery life
5 colors
Ambient Aware
Touch controls
USB-C and wireless charging
Jabra Elite Active 75t
No
IPX57 water-resistance
4 colors
Hearthrough tech
Button controls
Alexa, Siri, Google Assistant
USB-C and wireless charging
Apple AirPods 2
No
One color
Siri voice assistant
Sony WF-SP800N
Yes
Best battery life
Two colors - blue and black
IPX55 dust- and water-resistance
Amazon Alexa and Google Assistant
Touch controls


Sony WF-1000XM3
Yes
2 colors
Google Assistant integration
Touch controls
Amazon Echo Buds
No
IPX4 sweat- and water-resistance against splashes
One color
Alexa, Siri, Google Assistant
Bose Noise Reduction tech
Touch controls