GTA: Chinatown Wars for the iPhone review
9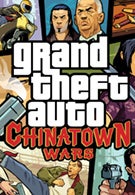 Rockstar Games managed to grip the attention of quite a few people with the release of GTA: Chinatown Wars for Nintendo DS back in March 2009. And as of this week, the title is available to all owners of the iPhone and iPod touch.
You begin your career in
Liberty City
, the famous place we all know well from the computer and console versions of the game. Your virtual alter ego is the rich and spoilt Huang Lee, son of a former Triad boss who went the way of all flesh and is now in the realm of St. Peter. You will have to fight for your life and struggle to survive tooth and nail from the very beginning, because as soon as you take off... you´ll end up thrown from a city pier into the sea and left for dead. Once successful in smashing through your car wind shield and emerging from the water, you will have to pay your much-loved uncle a flying visit and help the guy, who´s been in a fine pickle ever since you father joined the angels. Eventually, you´ll get deeper into the gripping action of getting ahead with your personal vendetta and taking revenge for your father´s untimely demise. Be prepared for pretty much everything that
GTA 2 for PC
offers, like a lot of fighting, skirmishes, exchange of fire, pursuits and manhunts, theft of various vehicles (including tanks)... only with slightly less appealing 3D graphics than the PC title. Why do we say GTA 2? Well, because you follow the action Chinatown Wars from pretty much the same bird´s eye perspective. Frankly, the rail tracks do tend to get in the way every now and then, but that´s something we can live with, plus you´ll get used to that pretty fast.
The world around you is diverse, full-blooded, teeming with life, interactive and open. Say, when you sometimes crash into another car, all manner of parts and gadgets will get scattered around, if you try and take a sharp turn your car can flip and tumble, water spurts from the remains of fire plugs you knock down, there are sunsets and sunrises etc. In case you get bored out of your skull of all the fight, getting and giving a drubbing, skirmishes and chasing, well, you can always try and make ends meet like an ordinary, law-abiding citizen and play as a cab driver, paramedic, fire-fighter or policeman. The whole turmoil of the gameplay is accompanied by pleasing audio tracks with distinctively Chinese melodic lines... and by quite a few obscene words in the dialogues. Unfortunately, GTA: Chinatown Wars for the iPhone
does not offer multiplayer
as its counterparts for the PSP and Nintendo DS platforms do.

You control all the action in pretty much the same way as in most titles for the iPhone – with a joystick on the left hand side and keys on the opposite. You can replace the joystick with arrows (less handy in our opinion) while driving vehicles, but either way you will have to use the buttons on the right to step on the gas, stop and slow down or pull the handbrake. We had to endure our own share of training and getting used to the controls that took us about 30-40 minutes, but by all means, it was worth the effort.
The graphics of GTA: Chinatown Wars will fail to wow you, especially when compared to the stunning beauty of
Avatar
and
N.O.V.A
., because all the eye-candies and visual details are, certainly, not as captivating. Still, this is one of the game traits that does remind us of the classic title GTA 2.
Grand Theft Auto: Chinatown Wars for the iPhone is truly a title that deserves your attention, no matter if you happen to be a fan of the computer and console versions of the game or just someone who enjoys fast-paced action. Just like pretty much everything else in life, GTA: Chinatown Wars for the iPhone is not without its shortcomings and the major one is called lack of multiplayer. Yes, we had hoped for tons of fun engaging in in street pursuits in Liberty City with real people, but alas, this is impossible. However, perhaps this is the reason why GTA: Chinatown Wars is significantly cheaper than the editions for Nintendo DS and Sony PSP and can be purchased from the AppStore for the modest $9.99.
Pros:
Gripping, diverse gameplay
Enjoyable soundtrack
Cons:
Lacks multiplayer
Controls take time to get used to