Avatar for the iPhone Review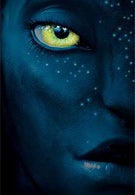 After reviewing
N.O.V.A. - Near Orbit Vanguard Alliance
, a game that quite a few of us expected to come out, we decided it was time to take a closer look at another heavily-anticipated title. Instead of retelling the original storyline however,
Avatar for the iPhone
takes you two decades before the events in the movie, where you'll be playing as the first avatar ever, so do not expect many déjà vu's with Cameron's
motion
picture.
Having watched the movie, we expected something really big here. What you are going to encounter in the first few levels of Avatar for the iPhone though is a rather closed world that will remind you more of some action-based
3D platformer
(this impression is strengthened by the numerous pick-ups you collect during the course of the game). Fortunately, later on you will have the chance for example, of riding a Pandora horse through some roomier spaces. You will also be able to fly with an ikran (that's the weird-looking, dragon-like creature). The action is nicely done, you can use both ranged and melee attacks to deal with the hostile environment on planet Pandora. The good thing here is that you won't be constantly fighting all the man-eating plants and animals, since the gameplay is diverse enough and features a lot of jump 'n' run elements.
While the movement of your character is relatively easy to master, you do not have any control whatsoever over the camera orientation, which can sometimes lead to uncomfortable viewpoints. Otherwise, the
atmosphere
resembles the one of the movie to an extent. It would be wrong to say that you'll feels as if you're on planet Pandora, but we have to admit it does have a small piece of that magical feeling you get while watching the movie.
We can understand that the entire flora Gameloft has created for the game has taken down the possible polygon count for the characters, but at least your hero could be a tad more detailed, as it is on-screen 100% of the time. Nevertheless, the
graphics are good
and the animations are smooth, so Avatar looks the right way for an iPhone game to say the least.
The Avatar game for the iPhone should be definitely tried by fans of the movie. The rest should probably watch the movie first, so as to avoid drawing wrong conclusions about it. Still, it's a more than decent game as a whole that will appeal to every arcade player. We wouldn't have minded some more open spaces so we can explore the beautiful Pandora forest freely, but nothing is perfect, you know, and neither is Avatar for the iPhone.
Pros:
Settled in the beautiful world of Avatar
Has a different storyline
Cons:
Levels are not very open
Characters could be more detailed