Future wearables might get charged by your body heat thanks to this new technique
4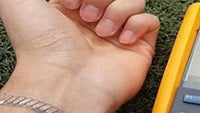 The relatively weak battery life is probably one of the main issues that most users have with wearable gadgets, which are quickly gaining more and more popularity these days. While the general idea of wearing a smart gadget on your wrist or your head is appealing to many, the cumbersome process of charging said devices once a few days is probably not. But that might not be the case in the not so distant future, as a new method promises to provide power to your wearable by utilizing nothing else than the heat that your body constantly emits.
Developed by the Korean Advanced Institute of Science and Technology (KAIST), this technique transforms body heat into electricity thanks to a very thin (~500 μm) thermoelectric power generator, printed on a transparent fabric. It's not only extremely thin, it's also light, flexible, bendable, and has a self-sustainable structure "without top and bottom substrates". KAIST claims that its thermoelectric generator has an energy output density that is tens of times greater than the ones of similar generators.
"For our case, the glass fabric itself serves as the upper and lower substrates of a TE generator, keeping the inorganic TE materials in between," stated Byung Jin Cho, an electrical engineering professor with KAIST. "This is quite a revolutionary approach to design a generator. In doing so, we were able to significantly reduce the weight of our generator, which is an essential element for wearable electronics."
Up until now, existing thermoelectric generators were rather bulky and not suitable for wearables, however, KAIST's invention allows significantly smaller devices to get charged by our body heat. The researchers at KAIST also claim that their technology could be used in automobiles, factories, aircrafts, and vessels, where it could make use of the wasted thermal energy.
source:
Knovel
via
Engadget