Froyo finally coming to Samsung's Epic 4G and Fascinate
18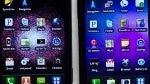 Good news for users of the Samsung Epic 4G and the Samsung Fascinate; in just a couple of weeks you will finally get an official update to Android 2.2 which we can all agree was way overdue.
Yes, there is a possibility that something will happen and the update will be delayed, again. This wouldn't come as a surprise, as this is not the first time word of the Froyo update surfaced. Getting the update first is the Samsung Epic 4G for Sprint. It is said to be coming over-the-air on February 21st.
Following in its footsteps is fellow Galaxy S device the Samsung Fascinate for Verizon. The update for this device would come the next day, February 22nd. But once again, we have heard this before so try not to get too excited because it may just set you up for another letdown.
It has been months, but Froyo could finally find its way to a couple more Galaxy S devices. Tell us what you think in the comments below.
source:
Slash Phone