From sci-fi to your pocket: What AI means in your smartphone
2
Advertorial by Huawei: the opinions expressed in this story may not reflect the positions of PhoneArena!
Just a few short years ago, artificial intelligence (AI) was the stuff of sci-fi movies, or nerdy robot foosball competitions shown in the "future tech" section of the evening news. Nowadays, however, it's an everyday buzzword, and you even have mobile AI in your phone. That's right, hidden among the marketing speak of
neural engine
co-processors is the simple fact that an increasing number of tasks in our phones are managed by the watchful eye of machine learning algorithms. What exactly does that mean, though?
Huawei is one manufacturer that has been leading the development of mobile AI with its latest devices, the
Mate 10
and
Mate 10 Pro
. Featuring the world's first AI chipset embedding a dedicated Neural Network Processing Unit (NPU), Huawei is leveraging its power to help automate the thousands of unconscious decisions you make on a daily basis, at least with regards to your phone. The AI chipset, for instance, looks after your battery and camera settings by understanding your user patterns to help keep the phone spiffy for as long as you have it.
Unbridled performance
Life-long learning
Perhaps the most underrated feature enabled by the dedicated AI processing power in Huawei's phones, is the ability to analyze your daily interactions with the handset, and prevent the habitual slowdown of the interface and performance over time that everyone is oh-so-familiar with. From better memory allocation, to expecting what you may do next with the phone, and prepare for it, the AI platform can provide powerful computing capabilities to help ensure the right performance balance, and prevent the dreaded bogdown.
On an everyday scale, the artificially intelligent interface works in a myriad of smaller ways to enhance your experience - it will boost a low-volume caller, for instance, or sense when you want to stream a YouTube clip.
Adaptive photography

Point and shoot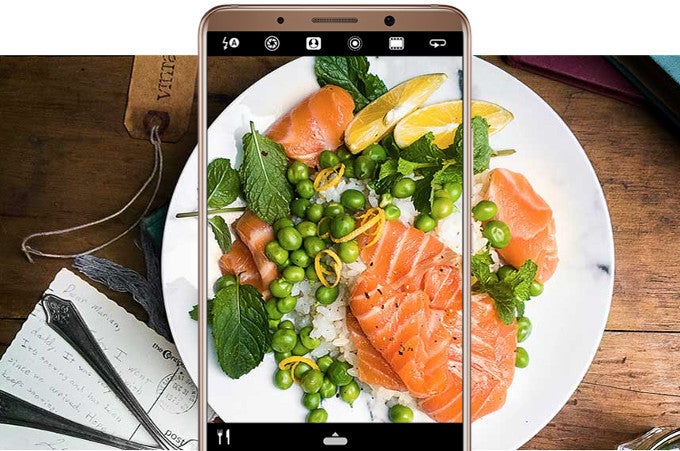 Excuse the AI if you haven't had lunch already
The intelligent camera algorithms in the
HUAWEI Mate 10
and
Mate 10 Pro
help to provide real-time object recognition, even in fast-moving scenes. What this means in reality is the NPU is regularly checking the objects placed in front of it, and once recognized, the camera settings are adjusted to ensure that the camera is ready to take the perfect picture.
Aided by the four focusing modes on the handset, the camera will then lock on the subject of interest, and can zoom in and out of a scene seamlessly without causing pixel degradation, or the typical motion blur. The AI calculations help with the hardware-level Bokeh effects, too, selecting which areas of the background to blur, and how to achieve the most artistic depth-of-field effect that emphasizes your subject and makes it front and center.
Class-leading power management
TÜV Safety Certified
Beyond photography, the HUAWEI Mate 10 and Mate 10 Pro can help with better and safer power management. In recent years, power management and battery safety have become a major concern for consumers, and rightly so. With chipsets that rival PC computers and laptops in terms of raw power, while still looking sleek, elegant and able to fit in your pocket, phones and especially their batteries are constantly being pushed to their limits.

Thus, Huawei harnessed the power of AI to manage its latest phone's processer to help ensure you not only have the power to get through a day without needing to charge, but that it is all done safely. To ensure this was achieved on the HUAWEI Mate 10 and Mate 10 Pro, Huawei sought out the stringent certification process of TÜV Rheinland (a global leader in independent product inspection services). This test involved the charging system from end to end, including the battery circuitry, cables, charges, and all parts of the adaptive power management system, to make sure it was safe for users.



As can be seen, having AI in your smartphone is clearly hugely beneficial to the user experience. With AI, you can achieve better battery life and pictures, while it delivers an all-round faster experience. Overtime, as your phone learns more about you it will actually improve and produce an even better experience. With the Kirin 970 AI chipset, it learns what sort of user you are and then optimizes settings and power allocation accordingly. Gamers, for instance, will see adjustments to settings such as the speaker volume level and screen brightness to ensure a positive user experience while still offering great battery life.

It is meaningful innovations like the AI chipset that have helped propel Huawei to the third position in the race to be the world's top smartphone manufacturer. By focusing on features that deliver genuine benefits to users, Huawei is leading the way in mobile AI and offering consumers devices such as the HUAWEI Mate 10 and Mate 10 Pro that provide a great experience.