From dusk till dawn: Samsung sheds more light on the making of the 16MP Galaxy S5 camera
25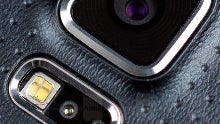 Samsung's Galaxy S5 earned the top place in our
thorough camera comparison
immediately after launch, thanks to its improved 16 MP camera with
ISOCELL
sensor, which is able to produce consistently pleasing results in a variety of scenarios. The ISOCELL technology decreases cross-talk between adjacent pixel cells, plus the pixels have 30% larger full well capacity. This means that each individual pixel can receive more light before saturating itself, which results into an improved color dynamic range, and images with better color exposition. The improved light sensitivity results in better performance of the camera sensor in low-light conditions, too.
Samsung didn't stop here, though, and wanted to derive the maximum of the sensor/lens/chipset/software combo. The company prides itself in two things in particular, when it comes to the camera of the S5. One is the ultra fast 0.3 seconds autofocus time, which is made possible by the new Snapdragon 801 chipset's 45% increase in image processing power, and the PDAF (phase detection auto focus) brisk focusing tech.
Hence, they took pictures day and night, from sunrise to sunset in various weather conditions, even in the freezing cold of winter.
The other is the always-on HDR mode, both for stills and video. To
take a high dynamic range photo
one needs to combine a few pics with different exposure settings, so processing those shots quickly, and seamlessly merging them in a single image, is quite the daunting task with the speeds that the Galaxy S5 shoots at. Samsung's engineers apparently used a separate sensor for the short and the long exposure part of the HDR snaps, and developed a proprietary algorithm to deal with the deluge of pixel data that results from combining the shots. They traveled the globe, and kept shooting over a thousand of images per day in all weather conditions, until they were pleased with the always-on HDR feature, that you can see demonstrated below. Our camera comparison comes to show that the effort put in developing the Galaxy S5 camera has definitely been worth it, do you agree?