FreedomPop introduces the secure "Snowden Phone"
9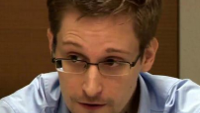 With some smartphone users worried about the security of their communications and web use, a number of secure phones are making their way to the attention of consumers.
At MWC, the Blackphone was unveiled
followed by word that
Boeing would produce a secure phone called "Black"
. Now, hybrid carrier FreedomPop is offering a secure model that it is calling the "Snowden Phone" after the infamous NSA leaker.
The phone itself is not spectacular. FreedomPop took a 2 and a half year old
Samsung Galaxy S II
and made changes to the software which now encrypts voice and text and uses a virtual private network to keep web browsing anonymous. Those purchasing the device, priced at $189 with no contract, are being allowed to change phone numbers whenever they want to.
Even with a new phone number every now and then, the carrier still tracks your SIM card's ICCID, so you don't totally disappear from the system. FreedomPop will even accept payment in Bitcoins if you want to keep some level of anonymity. But keep in mind that if the person at the other end of your call or text isn't using the same phone or apps, your illusion of security is just that, an illusion.
source:
FreedomPop
,
Geek
via
PCMag