'Free with in-app purchases' vs 'Paid': which model do you prefer?
31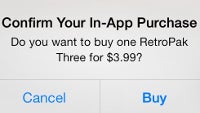 The 'free with in-app purchases' model has been pretty popular among app developers for quite a while now, but it has also managed to win itself a considerable number of opponents among users. It's very difficult to judge who's right and who's wrong in this dispute, and that's mostly because the 'value' of each model can vary greatly from title to title. We guess both sides in the argument have their reasons - those who dislike the freemium model aren't into pay-to-win stuff, and would rather pay a fixed price once and know that they have access to the whole product with no further limitations. On the other hand, we don't expect developers to abandon the in-app purchases strategy any time soon, considering that
most app revenue comes from IAPs
.
What's your take on the matter, considering both models (freemium and paid) as a whole, and not just specific titles? Would you rather pay a few bucks for a complete app/game, or you'd prefer getting your apps for free, even though you're likely to be required to pay in order to have a truly satisfying experience? Let us know what your reasons are in the comments!
Recommended Stories