FotoSwipe makes sharing photos cool, even between Android and iOS
7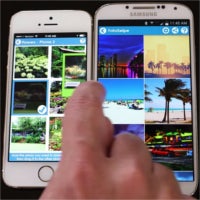 Sharing any kind of files is always a chore, especially when we are talking about trying to transfer anything from an Android handset to an iOS one. Copying that selfie you just took with your friend from your Samsung to their iPhone will often require you both to go through a number of different actions, and always use an Internet connection to achieve it. Add a bunch of other friends with their phones and things start tangling up.
Well, FotoSwipe is an interesting app, made with these problems in mind. It somehow manages to get Android and iOS to play together nicely, when it comes to copying pictures at least, and does it without requiring any type of setup, accounts, uploading, insert-annoying-activity, and to top it off – it looks cool while doing it. Well, it does need an Internet connection and your phone's Location Services to be on.
Essentially, what you do is, you activate PhotoSwipe on any handset that's going to be part of the photo sharing process. Then, on the device that you will be sharing from, you tap and hold the picture, then you drag it off-screen. Then, you move your finger towards the device that is to receive the picture and swipe in from its edge – voilla – the image magically appears on its screen. If there are more phones in the chain – you just continue swiping until the photo is shared on all of them. Sounds easy, looks neat – give it a whirl.
Download (
Android
|
iOS
)
via:
iMore